Public pools to open this Saturday
By Rochelle Moore
Published in News on May 26, 2017 7:01 AM
Full Size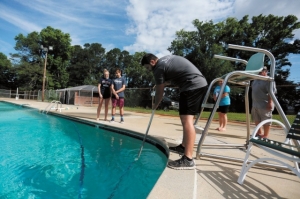 News-Argus/CASEY MOZINGO
Peyton Garland learns how to use the vacuum at Peacock Pool Thursday morning as lifeguards prepare for this season's opening on Memorial Day weekend.
School may still be in session another two weeks, but the summer swimming season is ready to start with pools opening Memorial Day weekend.
The city of Goldsboro's two swimming pools will open Saturday and remain open for the three-day weekend, including Memorial Day.
"We're opening both pools on Saturday, and we'll be open on the weekend and on Memorial Day," said Stasia Fields, recreation superintendent for the Goldsboro Parks and Recreation Department.
The city pools will be open five days a week each, with scheduling set so at least one pool will be open every day.
Peacock Pool, at 1503 Herring St., will be open Wednesday and Thursday from 10 a.m. to 6 p.m., Friday and Saturday from 10 a.m. to 8 p.m. and Sunday from 1 to 6 p.m.
The Mina Weil Pool, at 235 House St., will be open Monday and Tuesday from 10 a.m. to 6 p.m., Friday and Saturday from 10 a.m. to 8 p.m. and Sunday from 1 to 6 p.m.
Day and seasonal passes are available and include $3 per day for children age 17 and younger and $5 for teens and adults age 18 and older.
Seasonal passes are available at the Herman Park Center. Passes for children age 17 and younger are $25 for the entire season and $35 for anyone age 18 and older. Children and youth who receive free school lunches can receive a seasonal pass at no cost, and those who receive reduced lunch benefits can receive a seasonal pool pass at half the cost, Fields said.
Swimming lessons are available this year, and the pools will have swim teams.
"They can contact us about that because we're still working on both things," Fields said.
The swimming pools don't have lockers, but baskets are available for the storage of personal items. Each pool has showers, restrooms and dressing rooms for men and women.
This year, concessions will be sold at the pools and will include drinks, chips, candy and ice cream.
"We'll be selling concessions this year for the first time," Fields said. "Our pool manager suggested it, and she said at the place she worked at before, it was a big hit, so we thought that we would try it."
The pools are being managed and operated by city park and recreation staff for the first time in nearly 16 years, after the Goldsboro Family YMCA declined to renew its contract for the work in an effort to focus on the YMCA and its programs.
City officials also made a push to hire enough lifeguards by offering $10 an hour for the jobs. The pay attracted the number of lifeguards needed this year, Fields said.
"It most certainly did," she said. "We have way more than enough. We ended up getting some great lifeguards."
The department hired 20 lifeguards for the season, and recently trained 13. The city pools also have two pool managers, weekday and weekend pool managers and gate attendants.
"This is a first for me," Fields said of supervising the city pools. "I think we've got great pool managers, and we've trained great lifeguards, and I am looking forward to getting the season started.
"For years we ran them, and I know we can handle it again, and I think it'll work just great."
City pools will be open on the Fourth of July and Labor Day. Labor Day is the last open day of the season.