Air show attracts more than 230K
By Steve Herring
Published in News on May 26, 2017 7:01 AM
Full Size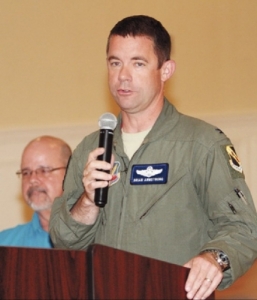 News-Argus/STEVE HERRING
Col. Brian Armstrong, 4th Fighter Wing vice commander, talks about the Wings Over Wayne Air Show during Thursday's Base Community Council meeting.
A crowd estimated at 230,000 attended last weekend's Wings Over Wayne Air Show on Seymour Johnson Air Force Base -- some 20,000 to 30,000 more than visited the 2015 air show.
"We had a small, little open house air show this past weekend, which was a lot of fun for us," 4th Fighter Wing Vice Commander Col. Brian Armstrong jokingly told those attending Thursday's Base Community Council meeting at the Goldsboro Event Center. "A lot of work, but a lot of fun.
"You've got some tired airmen this week. But it is OK, we are giving them tomorrow off to turn their Memorial Day weekend into sort of a four-day weekend."
Armstrong said the base took a lot of lessons learned from the last air show and sort of tweaked the way the base did things.
It really paid off, he said.
"I think the traffic control was better," Armstrong said. "The parking was better, and we were really postured well to handle a big crowd.
"Saturday, that was our big day. We were working hard and our medical folks were working pretty hard with their medics on base and their partners in the community."
About 200 people were treated for heat-related issues and about 100 had to be put into beds.
"We ran out of IVs at one point, and had to run downtown to get more," Armstrong said. "So just a great partnership with the community on taking care of a large crowd.
"In the end, everyone went home safely on Saturday night and got up the next morning and got ready for the air show on Sunday. Then Monday morning it was back to flying."
Armstrong said something else he is seeing this quarter is that everybody wants to visit Seymour Johnson Air Force Base.
And the base has a lot to show off, he said.
The first visit was the Qatar minister of defense who brought a delegation that is interested in purchasing F-15Es, he said.
"We got to show off what a great airplane it is," he said. "So we hope they make a decision soon to buy some F-15Es because that is good for us. It keeps the assembly line open. It keeps spare parts a little more available.
"So it is a good thing for our partners to be flying the same platform that we are."
Congressman David Rouzer visited the base and was given a mission brief.
He visited the base firing range that is an old facility that is "limping along" and that there are issues with, Armstrong said.
It is a facility in need of repair, but replacement is probably the better fit, he said.
Lt. Gov. Dan Forest visited during the week prior to the air show, and Gov. Roy Cooper is expected to visit soon, Armstrong said.
The base is also opening its gates to schools, he said.
"That has been really fun," he said.
The other big event of the quarter was the unit effectiveness inspection, he said.
"This is when our major command comes into town with 80 or 90 folks to help us out and take a look at all our programs and give us a little inspection," Armstrong said. "We were so proud of what our wing did in terms of that inspection.
"In the end, the inspection team found all kinds of good programs that are going on here and recognized our airmen. We did really well in that inspection."
It was a "true testament" to all of the hard-working airmen, he said.
Another highlight is wrapping up a land use study looking at airspace and how to protect it, Armstrong said.
It also looks at how to manage development that is compatible with the military.
Everybody in Goldsboro understands the base's mission and requirements and "takes great care of us," he said.
It is in the outlying counties -- counties on the base's low-level or bombing routes -- where there are sometimes communication problems, he said.
The study provided a great opportunity to get out and talk to people in those communities, explain what the mission is and why their air space is so important to the Wing's training and combat effectiveness, Armstrong said.
Complementing that study has been the designation of 33 eastern North Carolina counties as a Sentinel Landscape.
The idea behind the program is that it is a landscape that the military wants to protect and that local leaders want to protect for agriculture.
Also, the state beat out nine other proposals to win a $9.2 million federal grant of which $3.4 million will be used by the Air Force to protect land around the Dare County Bombing Range, he said.
It will allow the Air Force to offer landowners 20- to 30-year easements on the property to ensure no tall structures are built on them, thereby protecting the air space.