Wayne Early Middle College High School seniors reflect on work, dedication and toil -- and fun along the way
By Ethan Smith
Published in News on May 26, 2017 7:01 AM
Full Size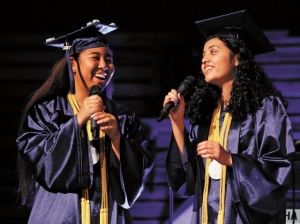 News-Argus/CASEY MOZINGO
Seniors Lee Anna Haskins and Cindy Saucedo sing a musical tribute to the Wayne Early Middle College High School Class of 2017 Thursday night at The Bridge Church.
Life will get harder from here.
Homework assignments will turn into bills to pay.
Papers will turn into quarterly reports.
Teachers will turn into bosses.
But since each of them graduated from Wayne Early Middle College High School, the members of the class of 2017 are more than prepared for the future that lies ahead.
They've been well-prepared by the already-late nights and early mornings they pulled toiling away to get not only high school diplomas, but associate's degrees, too.
Of the 64 students who graduated from WEMCHS Thursday night during a ceremony at The Bridge Church in Princeton, 42 graduated with associates degrees in either arts or science.
Two of them graduated with an associate's degree in both.
Many of the students who spoke at Thursday night's ceremony took time to reflect on their favorite memories from moments they shared throughout the past four years.
"Nobody here can truly know the countless hours, sweat and tears that have put us here today," said Hay'ralah Alghorazi, who graduated with an associate's degree in science. "I only wish to highlight the desire that has moved, carried and dragged us here -- the desire for success."
Several of the speakers spent time ruminating on how the rigors of WEMCHS have prepared them for any challenge that lies ahead.
The future, they said, is theirs for the taking, no matter how difficult the road that lies ahead may be.
"Throughout our high school years we have learned more about who we are as people, we have deducted ways in which we see the world and we have decided that we want to make our mark on the world," said James Powell III, who graduated with an associate's degree in arts. "We are ready to depart from WEMCHS now to do so."
A total of seven seniors got their turn to speak to the crowd gathered in The Bridge Church.
Each of them reflected on the struggles they overcame to get to graduation and how those hardships and moments of triumph have prepared them to charge forward into the future, just as their mascot -- The Mustangs -- suggests they will do.
While the church might be used on Sundays to turn people from doubters into believers, the auditorium was filled with people who already believe the 64 students who graduated will achieve nothing but the best for themselves.
At the end of the ceremony, a slideshow that displayed each senior's baby photo, graduation photo, plans for the future and a quote to accompany it all scrolled across the large screen above the stage.
Some slides indicated seniors had plans for the medical field, others communications, and some said they had plans to join the military or an intelligence agency.
And, to conclude the night, they turned their tassels before turning over a new leaf and starting on a new path.
"Now that we're here to turn our tassels and progress on in life, remember that no matter how far you go that you are a part of something bigger," said Nia Maat, who graduated with an associate's degree in science. "You have a class that will love and support you no matter where you end up, as this puzzle piece is not complete without each and every one of you."
Other Local News