Man sought in shooting
By Ethan Smith
Published in News on May 26, 2017 10:51 AM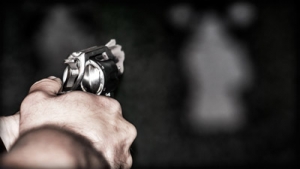 Authorities have issued arrest warrants for the man allegedly responsible for shooting another man in the foot at close range with an AR-15 Tuesday afternoon.
Jamey Leonard Stewart III, 32, of 103-B Spring Branch Road, is wanted for assault with a deadly weapon inflicting serious injury, according to a report filed with the Wayne County Sheriff's Office.
The report said Joshuah Kristopher Keating, 30, was in a car with three other people when Stewart and another woman pulled up in a Chevrolet Trailblazer on Emmaus Church Road in Dudley.
Words were exchanged between the two parties, the report said. Stewart allegedly hit Keating in the nose while the woman with Stewart, identified on the report as Dianna Watson, allegedly hit Keating on the back.
The report said Keating wiped the blood from his eyes and saw Stewart holding an AR-15 about a foot from his foot.
Stewart then allegedly fired one shot into Keating's foot before the Trailblazer left the scene.
Capt. Richard Lewis with the Wayne County Sheriff's Office said Keating was hit in the face while he was still inside the car, but the shooting happened when both parties involved were outside of their respective vehicles.
Keating was taken to Wayne Memorial Hospital for treatment.
Anyone with information about this crime, or any other crime in Wayne County is asked to call or text Crime Stoppers at 919-735-2255, or submit information at tipsubmit.com.
Callers can remain anonymous and information leading to a felony arrest will be eligible for a cash reward.
Other Local News