Local Feature: 25 Years of the Strike Eagle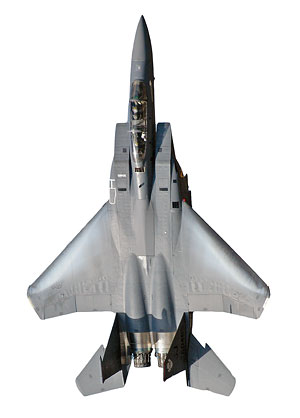 The legacy of the F-15E is still being written, but in the quarter-century since the first Strike Eagle was delivered to a U.S. Air Force base, one of the military's premier fighter jets has made an irrefutable impact in war theaters across the world — and on the lives of those troops on the ground who lived to see another day, in part, because of those aviators protecting them from thousands of feet above the battles they were waging.
From Operation Desert Storm to the continuing conflict in Afghanistan, Strike Eagles like those assigned to Seymour Johnson Air Force Base have been involved in every major military operation since the jet was deemed fit for combat. But not every story that has unfolded in their cockpits ended in a victory.
This special section not only highlights the many achievements of the airframe — and the men and women who have commanded it since April 1988 — but also pays tribute to those who lost their lives serving their nation from the skies.
We feel we owe it to the fallen, and those loved ones they left behind, to honor their sacrifice.
Our hope is that after reading this special section, you, like those of us who have been lucky enough to document — both at home and from theater — the history of the F-15E, will have a greater appreciation for both those who command Seymour Johnson's fleet and those who work countless hours to ensure it is fit to fly.
And that the next time you see a Strike Eagle streak overhead, you will have a greater admiration for all it took to ensure it is there.
2004 -- Twenty-one 4th Fighter Wing F-15Es participate in a flyover for President Ronald Reagan's funeral. 2007 -- Former child star Barry Williams, who played Greg on "The Brady Bunch," gets a ride in a Seymour Johnson Air Force Base...
Published: Apr 28, 2013 1:50 AM Full Story
A deployed Air Force aviator is caught, by his comrades, watching a video inside a room used for mission planning. His 11-month-old son had just learned to walk. "I think he had just gotten it in the mail," the airman's...
Published: Apr 28, 2013 1:50 AM Full Story
Mission The F-15E Strike Eagle is a dual-role fighter designed to perform air-to-air and air-to-ground missions. An array of avionics and electronics systems gives the F-15E the capability to fight at low altitude, day or night, and in all weather....
Published: Apr 28, 2013 1:50 AM Full Story
It's Election Day 2005 and Phil Smith is in the cockpit of one of the F-15E Strike Eagles circling the skies over Iraq. "It was pretty much to let the Iraqi people know, 'Hey. Don't be afraid to go to...
Published: Apr 28, 2013 1:50 AM Full Story
* Capt. Francis "Piston" Imlay -- Imlay, a pilot assigned to the 391st Fighter Squadron, was killed March 28, 2012, when his aircraft crashed near a base in Southwest Asia. * Capt. Mark "Pitbull" McDowell -- McDowell, a pilot assigned...
Published: Apr 28, 2013 1:50 AM Full Story
The blue sky had been consumed by the kind of gray that seemed to energize the insurgents operating near Coalition positions nestled in a valley not far from the Afghanistan/Pakistan border. A mortar attack had already unfolded -- a result,...
Published: Apr 28, 2013 1:50 AM Full Story