Local Feature: B-52 crash - 50th anniversary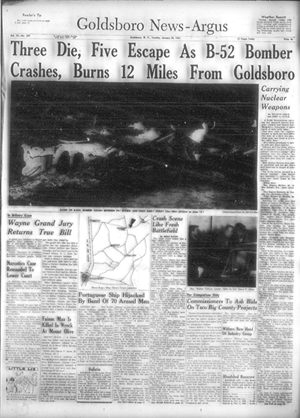 50 years ago a USAF B-52 carrying two Mark 39 nuclear weapons crashed into a Wayne County field. Five of the six safety features designed to prevent an explosion failed.
A reunion will be held Feb. 8 for many of the people who, 50 years ago Monday, were involved in the 1961 B-52 crash. Three airmen were killed and five escaped when the aircraft fell Jan. 24, 1961, carrying two...
Published: Jan 23, 2011 1:50 AM Full Story
In an instant, it was as if Wayne County had never been anything but a thick, red haze hovering above a smoldering crater that stretched for miles. The land around Ground Zero was ablaze. All signs of life had been...
Published: Jan 23, 2011 1:50 AM Full Story