Four teens charged, two sough in break-ins/shooting
By News-Argus Staff
Published in News on May 27, 2017 2:00 PM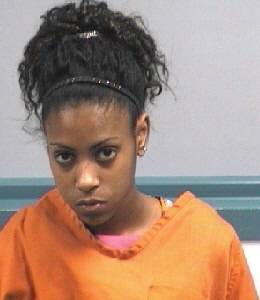 Younger. Editor's note ---- None of the other defendants had mug shots available at press time.
Four teens have been charged and two others are wanted in connection with a series of residential break-ins and a shooting being investigted by the Wayne County Sheriff's Office.
According to a press release, a neighbor witnessed the group leaving one of the homes just after a break-in on March 23. That incident took place in the 1400 block of Parkstown Road.
At least one of the six teens allegedly fired a handgun in the direction of the witness. The bullets missed the man, but several of the rounds struck his home, the release said.
Tamiria Nachelle Younger, 17, and Khadafi Kameek-Montrez Barnes, 17, both of Kinston, are charged along with Shvonta Drequantre Hart, 18, of LaGrange and a 15-year-old juvenile not identified in the release.
Each defendant is charged with one or more counts of felony breaking and entering, attempted larceny after breaking and entering, larceny after breaking and entering and possession of stolen goods.
All four are also charged with four counts each of discharging a firearm into occupied property, those charges stemming from the shots allegedly fired at the witness.
In addition to March 23 break-in, police say the foursome and two others are responsible for break-ins and thefts from homes on Feb. 14 in the 2300 block of New Hope Road, and on March 24 in the 100 block of Old Jason Road.
Hart, the oldest of those arrested so far, had his arrest warrants served to him in Lenoir County Jail where he is currently being held on breaking and entering charges from that county. His bond amount was not reported.
Younger's and Barnes' bonds were set at $115,000 and $205,000 secured, respectively, and the unidentified 15-year-old was served with juvenile petitions.
The two remaining suspects have to yet been located and have not yet been identified publicly.
Other Local News