Heroin Epidemic: Crisis hits home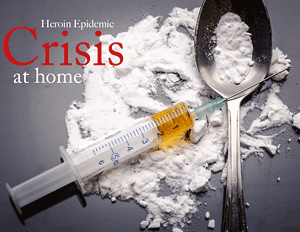 As heroin addiction causes more and more reported overdoses in the community, the question of treatment availability and where it is coming from resonates.
Read the story of a mother's loss due to the devastating addiction, what treatment options are available locally, and how law enforcement is tracking and combating heroin in Wayne County.
George Carr, licensed clinical social worker and therapist at Waynesboro Family Clinic, says it is heartbreaking to tell an addict there are no beds available in a detox facility. "It is heartbreaking when you have someone in your office that...
Published: Sep 18, 2016 12:19 AM Full Story
Near the beginning of this year, a man riding an Amtrak to North Carolina from New Jersey ate an orange. He died instantly. His stomach was filled with balloons of heroin he was smuggling into the state, with every...
Published: Sep 18, 2016 12:19 AM Full Story
The ashes of Charlie Bowles sit on his mother's coffee table. Carol Bowles keeps them there, it's where she feels close to him, and in her grief that is what brings her some measure of comfort. On a Wednesday afternoon...
Published: Sep 18, 2016 12:19 AM Full Story