Walking the beat: councilman makes the rounds with police
By Rochelle Moore
Published in News on May 26, 2017 2:17 PM
Full Size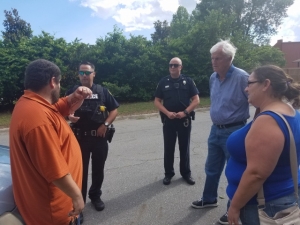 News-Argus/ROCHELLE MOORE
Goldsboro Councilman David Ham, with police officers Jason Booker and Kenneth Prevost, talk with Lester Durham who shares concern about robberies in neighborhoods around Randolph Street.
Full Size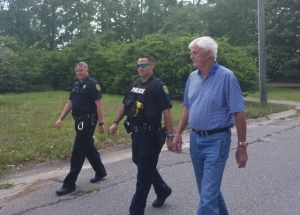 Councilman David Ham walks through Claiborne Street neighborhoods Thursday with Goldsboro Police Department officers Kenneth Prevost and Jason Booker.
Goldsboro Councilman David Ham walked the beat with two police officers Thursday as part of the city's increased community outreach efforts.
Ham, the council's District 5 representative, walked through neighborhoods in his district, including areas along Claiborne, Rose and Randolph streets for a couple hours.
Ham decided to join Goldsboro Police officers Kenneth Prevost and Jason Booker on their routine community policing beat, a new initiative the police department started about a month ago.
"Whenever guys are out in neighborhoods, they're talking with anyone they see," Prevost said. "They're asking them if they have any problems in their neighborhoods that the police can help remedy."
On the day-to-day job, officers are typically busy responding to calls, crime and other public safety issues. The daily work reduces their ability to take time to interact and better connect with local residents in their own environment.
The city's ramped-up efforts to increase community policing is also an effort to build trust.
"A lot of people keep to themselves," Prevost said. "It gives us a better idea of what's going on in their neighborhoods.
"I think it's a great way to make contact with a lot of people you otherwise wouldn't make contact with."
Goldsboro police officers on every shift have walked through city neighborhoods since the department started the effort, Brooks said.
During the walk, Ham was able to talk with Lester Durham, who has had his hurricane-damaged house on Randolph Street broken into several times.
Durham said he's had problems trying to hire an electrician to make home repairs. He's also had difficulty in receiving regular trash pickup.
Ham offered a city contact for trash collection service and another contact to find an electrician.
Durham said the beat walk helps the neighborhood.
"It's a good idea because when I first moved here in 2012, it was wonderful, and in the past two years or so, it's all gone (downhill) here. Everything's getting broken into and (there's) lots of vagrant foot traffic," he said.
Ham said the evening walk gave him a greater connection to residents.
"I wanted to go out with them to get another opportunity to meet with people in my district, especially in areas where there has been some degree of criminal activities," Ham said. "It gave me a chance to speak to (residents) one on one about issues they were concerned about or not concerned about.
"I plan to continue doing that, from time to time, as well."
Other Local News