Wayne Country Day graduates 20 students
By Rochelle Moore
Published in News on May 26, 2017 7:01 AM
Full Size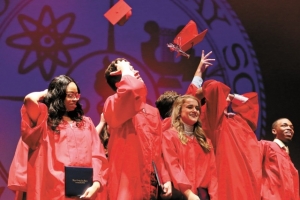 News-Argus/CASEY MOZINGO
Wayne Country Day School graduates toss up their caps after the commencement ceremony Thursday.
Lorre Gifford can't remember much about her graduation ceremony, but she wanted the Wayne Country Day School Class of 2017 to have a different story.
Gifford, chair of the school's science department, told the 20 graduating seniors to take time to cherish special moments while making a difference in the world.
But in an effort to remember the day, she paused to take several selfie photos on her camera.
She pulled out a crown and a toy light saber at different moments during her faculty address, and ended by opening her gown to reveal her alter-ego Wonder Woman costume.
"May the force be with you," she said. "Live long and prosper. Love your inner superhero."
Gifford, also the STEM/Google coordinator and teacher, also reflected on the accomplishments of the graduates and how they left an impression on her life.
"Graduates, you don't need me or anyone else to tell you of your greatness, but I will anyway," she said. "I have seen you move mountains for your friends and classmates using kindness and compassion as your weapons of choice. I have marveled at your physical strength on the athletic fields and your mental prowess in the classroom.
"You have, both collectively and individually, changed me forever. I am, indeed, a better person for knowing you."
Wayne Country Day School's 47th commencement, at 11 a.m. Thursday inside the Paramount Theatre, included several faculty recognitions and the presentation of the senior class gift.
The senior class president, Allison Willman, announced this year's senior class gift, outdoor patio furniture for the school library.
Faculty members Karen Mzyk, director of the Learning Center, and Tracey Benton, K4 teacher, were each presented with the Pau Hana Award recognizing their retirement.
Benton also received the Teacher of the Year Award for grades 3K through sixth, and Joe Cook, a history teacher, received the Teacher of the Year Award for grades seven through 12.
The Class of 2017 also had co-valedictorians, with each sharing memories of the school and inspiring words for the future.
"We are a class of grinders and achievers that can achieve what we desire, with the necessary motivation," said co-valedictorian Mitchel DeBoskey.
"Please find your motivation, whatever it may be. Let it fill your soul and light a fire that powers every movement and decision that you will make."
DeBoskey, who transferred to Wayne Country Day from California at the end of his sophomore year, said he thrived in the school's smaller class environment.
"I transitioned from a public school of about 3,000 students to a graduating class of 20," he said. "Needless to say, this was a huge change for me. This school is truly comprised of a program that breeds excellence, entices achievement and rewards progress."
DeBoskey, who plans to attend the University of Notre Dame as a pre-med student, praised his classmates for their achievements as state athletes, distinguished scholars and honor society members.
Co-valedictorian Aimée Barnes, who will attend the University of Virginia and study civil engineering, minoring in computer science and Spanish, has nearly a lifetime of memories at Wayne Country Day.
"I spent 16 school years, day in and day out, in the walls of Wayne Country Day School, and knowing that I was leaving it behind was a shock to my system," she said.
"While it is an exciting day for all of us, I recognize that it may not be as exciting for others. For some of us, it means freedom and power. Yet for others, it means losing a big piece of our hearts."
Reflecting on all the memories, friendships and relationships, Barnes said it's the people who have made the school what it is.
"A place is only as good as the people you know in it," she said. "It's the people that make the place."