EMS Week comes alive at picnic
By Ethan Smith
Published in News on May 26, 2017 7:01 AM
Full Size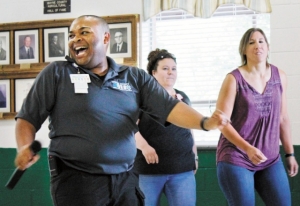 News-Argus/ETHAN SMITH
Laquan Reid, left, leads a group of people in a dance at the Wayne County EMS appreciation picnic, held Thursday during the statewide EMS Week, which runs through Sunday.
EMS workers can usually be seen hustling to and from their ambulances at crime scenes and medical emergencies.
But on Thursday, many of them were spied hustling across the dance floor during an appreciation picnic put on by the county.
Wayne County held a picnic for first responders with Wayne County EMS and Wayne NET Thursday from 11 a.m. to 3 p.m. at the Wayne Center.
The picnic was organized by a committee of county employees as part of National EMS Week -- a way to show appreciation for what first responders do in the community.
Food was provided by McCall's BBQ & Seafood restaurant, and door prizes were available for all who attended.
The event was open to both on-duty and off-duty EMS workers from every shift of Wayne County EMS and Wayne NET.
"This week is National EMS Week to recognize EMS personnel across the nation, and Wayne County is doing their part," said EMS worker Laquan Reid, who later led several groups in various dances such as the "Cha-Cha Slide," the "Cupid Shuffle" and "Copperhead Road."
This was the third year a picnic was held for EMS workers, but the county has been recognizing those in the EMS field throughout the years with various events in the past.
"What we've started over the past couple of years is the county has provided a lunch for us and an appreciation day for us," Reid said. "It's a day for us to come together, fellowship, have a great time and enjoy each other's company as a whole because we don't get to do that as often when we're all on shift."
In addition to the festivities, administrators took time to award EMS Personnel of the Year for various shifts of Wayne County EMS and Wayne NET.
Nannette Sutton, an administrator with Wayne NET, said employees with each shift voted for who they felt should win the award for each shift.
The awards went to:
* Carl Greeno, Wayne County EMS
* Christina Coulter, Wayne NET
* Karen Cotton, Wayne NET
* Beth Smith, Wayne NET
* Jessica Tillman, Wayne County EMS
* Susan Brock, Wayne County EMS