JUDITH MAE ROBINSON NORFOLK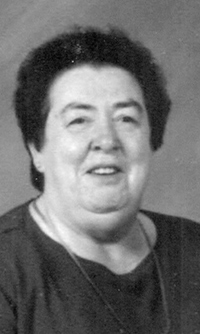 July 8, 1939-Sept. 7, 2018
Judith Mae "Judy" Robinson Norfolk, 79, died Friday at her home.
Born in Macoupin County, Ill., she was the daughter of the late John Robison and Alta McCawley, and was the wife of the late Charles E. Norfolk.
She was preceded in death by three children, Dale Edward Walden, Gail Elaine Walden Neal and Danny Norfolk.
A memorial service to celebrate Judy's life will be Tuesday, Sept. 11, at 2 p.m. at The American Legion Post #11, 2973 U.S. 117 Dudley, N.C., 28333, with pastor Tom Martin officiating.
Judy lost the father of her children Robert Walden on Sept. 11, 1995, and later remarried Charles E. Norfolk who died on Feb. 4, 2015.
She had attended in her earlier years Northwestern High School in Illinois. She was a Lifetime member of The American Legion Auxiliary and had served as State President from 1996-1997. In addition, she was a Life member of The V.F.W. Auxiliary. During her leisure time she could be found communication with her friends and family through Facebook which was her link to the world. She especially enjoyed her phone conversations with her friends Ann Moore, Becky Harrell and Marlene Short.
She is survived by her children; Terri Walden Brimberry and husband, Mike, of Mount Olive, Robert "Bobby" Walden and wife, Eleanor, of Mount Olive, Kenneth Walden and wife, Roxanne of Carlinville, Ill., and Debbie Norfolk Marshall and husband, Tommy, of Goldsboro; a brother, Dick Robison; and a sister, Mary McCarty; nine grandchildren, Shane Holland and wife, Kelly, Kelli New and husband, Blake, Brad Brimberry and wife, Vicky, Chris Brimberry, Scotty Thornton and wife, Wendy, Jami Simmons and husband, Justin, Staci Hinson and husband, Marshall, Jodie Walden, Alice Whaley and her husband, Matt; 16 great-grandchildren, Matthew Brimberry, Hunter Grant, Lauren Brimberry, Allyson Brimberry, Grayson Brimberry, Cameron New, Morgan Brimberry, Carlin Holland, Kaisley Holland, Casey Thornton, Hope Thornton, Kira Simmons, Ariel Simmons, Justin Simmons, Destiny Hinson and Waylon Whaley; two great-great grandchildren, Ava Kate Ryan and Tinsley Heath.
The family request that in lieu of flowers memorial contributions may be directed to The American Legion Auxiliary Unit #11, 2973 S. US 117, Dudley, N.C., 28333
Shumate-Faulk Funeral Home is serving the Norfolk family, and online condolences may be sent to www.shumate-faulk.com.
(Pd)
Published in Obituaries on September 10, 2018 8:05 AM