JOHN LEVY HOWELL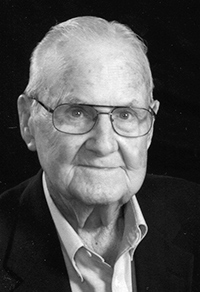 Aug. 4, 1924-Sept. 10, 2018
John Levy "Doodle" Howell, 94, Rosewood, passed away Monday, Sept. 10, 2018, at his home.
Doodle was born Aug. 4, 1924, in Wayne County to the late Edward and Vara Edwards Howell. He was married to the late Frances Leona Godwin Howell.
He proudly served his country in the United States Army at the end of World War II. Doodle worked with the United States Postal Service from 1957 to 1989. His first and favorite occupation, however, was a farmer, and many of his happiest times were spent atop one of his tractors on the family farm.
Doodle was an active member of Ebenezer United Methodist Church. He lived a life of dedication to his family and friends, and to his community. Doodle served his community as the former chairman of the Rosewood High School Advisory Council and was instrumental in the purchase of property for the new high school as well as the construction of the football field. He also enjoyed hunting and later enjoyed watching all kinds of wildlife.
The family will receive friends Wednesday, Sept. 12, from 10 to 11 a.m. at Seymour Funeral Home followed by a service to celebrate Doodle's life at 11 a.m. in the chapel, with the Rev. David Pate officiating. Interment will follow in the Princeton Cemetery.
Doodle is survived by his sons, John "Johnny" Howell Jr. and wife, Sue, Douglas Howell and wife, Cheryl and Darren Howell and wife, Kim; grandchildren, Denise Clark, Trent Howell, Deanna Wheeler and Paige Howell; great-grandchildren, Josh Clark, Jonah Clark, Brady Wheeler, Lane Wheeler, Lizzy Wheeler and Levy Howell; and several nieces and nephews.
Flowers are welcome or memorial may be made to Ebenezer United Methodist Church, 3859 U.S. 70 West, Goldsboro, N.C., 27530.
Online condolences may be sent to the family at www.seymourfuneralhome.com.
(Pd)
Published in Obituaries on September 11, 2018 8:05 AM