EDNA MALPASS MCKEEL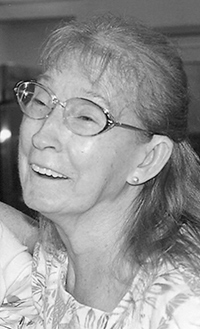 May 25, 1930-Sept. 9, 2018
Edna Malpass McKeel, 88, passed away peacefully Sunday, Sept. 9, 2018, at Kitty Askins Hospice Center.
A native of Wayne County, she was born May 25, 1930, the daughter of the late Daniel Edgar and Bessie Brogden Malpass and the widow of Linwood Mc Keel.
Edna was a homemaker and had a love for yard sales.
A service to celebrate her life will be Tuesday, Sept. 11, at 7 p.m. at Seymour Funeral Home chapel, with the Rev. Tom Dorman officiating. Interment will be Wednesday at 10 a.m. in Evergreen Memorial Cemetery.
Surviving is a daughter, Sandi Jones and husband, Bobby; son, Danny Moody and wife, Iris; grandchildren, Zachary and Parker Jones, Michelle Wolfe and Boone Moody; and great-grandchildren, Trevor Hernandez, Ian and Della Wolfe.
The family will receive friends Tuesday following the service at the funeral home and other times at the home of Danny and Iris Moody.
Flowers are welcome or the family would encourage you to make a memorial gift to Kitty Askins Hospice Center, 107 Handley Park Court, Goldsboro, N.C., 27534.
Online condolences may be sent to the family at www.seymourfuneralhome.com.
(Pd)
Published in Obituaries on September 10, 2018 8:05 AM