BETTY GILMORE MCNEILL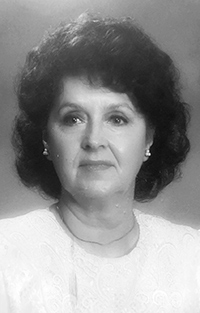 July 14, 1932-Sept. 8, 2018
Betty Gilmore McNeill, 86, passed away Saturday, September 8, 2018, surrounded by her family.
Betty was born July 14, 1932, in Lee County to the late William Duncan Gilmore and Ella Fore Gilmore. She was married to the late Sam McNeill.
Betty was a valued employee of A.P. Parts in Goldsboro and retired after her many years of service. She was a member of Freedom Baptist Church.
A service to remember Betty will be Tuesday, Sept. 11, at 11:00 a.m. at Seymour Funeral Home chapel, with pastor Tom Harper officiating. Interment will be in Evergreen Memorial Cemetery.
Betty is survived by her son, Sam McNeill Jr. and wife, Vickie, of Pikeville; three grandchildren, Sam McNeill III, Tyler McNeill and wife, Catherine and Cameron McNeill; and five great-grandchildren, Jaxon, Kyler, Ava, Ross and Ryan.
In addition to her husband and parents, she was preceded in death by her sisters, Burla Dowdy, Mamie Loposay, Elizabeth Lamm, Mabel Owen, and Beatrice Stone; and brothers, James H. Gilmore and Marvin Gilmore.
Flowers are welcome or memorials may be made to Freedom Baptist Church, 300 Country Day Road, Goldsboro, N.C., 27534.
The family will receive friends today from 7 to 9 p.m. at Seymour Funeral Home.
Online condolences may be sent to the family at www.seymourfuneralhome.com.
(Pd)
Published in Obituaries on September 10, 2018 8:05 AM