Goldsboro Fire Department conducts water rescue training
By Rochelle Moore
Published in News on October 25, 2017 5:50 AM
Full Size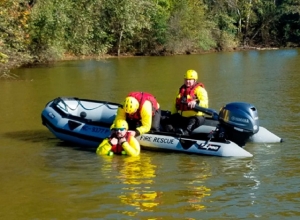 News-Argus/ROCHELLE MOORE
Capt. Rob Loreman pulls Capt. Chad Cobb, team leader, out of a pond near Claridge Nursery Road as firefighter Jordan Piper steadies the boat during the Goldsboro Fire Department's water rescue training.
Full Size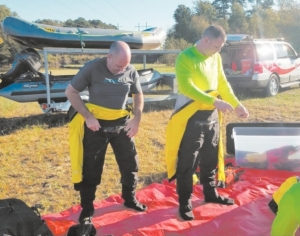 News-Argus/ROCHELLE MOORE
Goldsboro firefighters Robert Jones, left, and Adam Taggert put on dry suits, used to protect against contaminated water, before swift boat water rescue training Tuesday morning.
Goldsboro fire Capt. Don Collins was working the day when the call came in that a woman was stranded in a wooded area near Kitty Askins Hospice Center after floodwaters cut off a section of Wayne Memorial Drive during Hurricane Matthew.
At the time, a fire rescue crew, including Capt. Chad Cobb, used a 14-foot-long, flat-bottom Jon boat, which did the trick but proved difficult during the rescue.
"She was trying to get home," Collins said. "She just got caught in it. It swept her out of her car, and we were able to rescue her."
The rescue and the death of a 54-year-old man whose truck was pulled into the floodwaters led the Goldsboro Fire Department to purchase a water rescue boat and raft within days of the 2016 hurricane. The $29,000 boat and raft were paid for by the Federal Emergency Management Agency.
The addition of the equipment led to the development of a new water rescue team within the Goldsboro Fire Department. The team, led by Collins and Cobb, includes 20 firefighters, all who signed up voluntarily, and continue to receive regular pay for the work.
Firefighter Adam Boswell, who was working during Hurricane Matthew, decided to join the team after realizing the community needed an extra layer of protection, especially during widespread flooding conditions.
The rescue of the young woman also left an impression.
"After that experience, that's what helped me in making the decision to help the citizens of Goldsboro," Boswell said. "We did the best we could during Hurricane Matthew but with this, I think, we can serve on a whole new level. With the floods becoming even more prevalent, this is a necessity."
And even though it can add a layer of danger to the job, he didn't think twice.
"Signing up for it, it wasn't even a consideration," Boswell said.
Eight members of the water rescue team took to the water this week and trained in a pond off Claridge Nursery Road. Training, which takes place at least once every other month, has also been performed on the Neuse River, Little River and the Roanoke River.
Before driving to the training area, Cobb briefed the team on the day's plans Tuesday at the Goldsboro Fire Department. When they arrived, each member slid on a tight-fitting dry suit, a life vest, helmet and attached a throw bag on the suit that included a 55-foot-long rope.
The dry suits offer a layer of protection from contaminated water, which often can be found during a natural disaster.
The team broke into two groups, with one training on the raft and another on the motorized Zodiac Milpro rescue boat. All team members are cross-trained to be able to use all of the equipment efficiently, Cobb said.
The raft training included several flip-over maneuvers as well as each man working to pull himself on top of an upside-down raft.
"Of, it's hard," Collins said. "It's hard when you've got all this equipment on.
"This is very dangerous because if you make a mistake in this, you're gone. You don't get any slip ups with this."
Boat operation maneuvers included cutting through the water at high speeds, making sharp turns, moving through and around obstacles and victim rescues.
The motorized rescue boat is able to move at 30 mph through the water and can push against currents.
"It'll run about 30 to 32 mph, which is really fast on the water," Collins said. "It's designed to make sharp turns and pick up people in swift water. It can go up to a car, a telephone pole and a tree, and we can nose up to it and a guy can come and make a rescue."
The fire department is in the process of ordering enough equipment for the 20 team members, which costs between $1,700 to $1,800 each, Cobb said.
During flood conditions, the team has the ability to break up in two groups to cover the city. One will use the water rescue boat and the other will use the flat-bottom boat. There are no current plans to purchase another motorized water rescue boat, which costs about $12,000.
"What would happen is during a storm, we'll split the city in half and I'll take a team and Capt. Cobb will take a team," Collins said.
The water rescue team plans to take a swift-water technical rescue course at Wayne Community College in the spring, which will result in the team becoming state certified.
"It's just something you want to do to help people," Collins said. "It's something unique and you're able to broaden your skills. You just enjoy the job so much and you just hate not being able to help somebody else."