Artist paints 40-foot mural on warehouse
By Rochelle Moore
Published in News on October 25, 2017 5:50 AM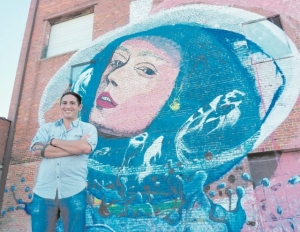 News-Argus/ROCHELLE MOORE
Scott Mele takes a break from painting a 40-foot-high mural on the side of the Holly Street Warehouse. The mural can be seen from the center of Royall Avenue and Center Street and should be finished late next week.
Full Size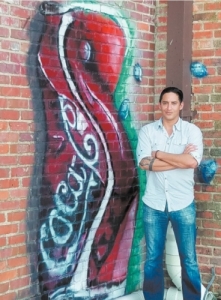 News-Argus/ROCHELLE MOORE
Scott Mele stands next to a partially crushed Coca-Cola can he painted on the Holly Street Warehouse this week.
Scott Mele was never an artist growing up.
But a serious car accident and a different perspective on life led him to pick up a paint brush about 18 months ago.
He can't explain how he does it, but as he starts working on a painting, he just knows how to make the colors, shapes and pictures come together.
He is currently working on his largest creation -- a 40-foot-high mural -- on the side of the Holly Street Warehouse.
"I have no idea what I'm doing," Mele said. "As I paint, I see what needs to be fixed, and I fix it."
The mural, which can be seen where Royall Avenue intersects with Center Street, is six days in the making and about half finished.
"This is not the final product at all," he said. "This is just getting it up on the wall and sketching it."
Mele is painting a man holding a cup that has the face of a woman rising to the surface of the coffee. In the coffee are several koi fish, which he plans to paint in orange and red colors.
"He's reminiscing about this girl and how they met," Mele said. "It's a true love kind of thing -- a love lost."
The mural can have a more dramatic effect, depending on where you stand while looking at it, he said.
"I like to paint things that have meaning in it and things that people can lose themselves in," he said. "When you stand there, you get lost in it. I think it moves you."
When finished, the mural will be more defined, with the cup of coffee pouring out, he said. The painting is planned to take up most of the 50-foot-high warehouse wall and will be 40 feet high and 40 feet wide.
Mele uses a sky jack to paint in hard-to-reach areas, and he's using a paint roller and spray paint. He also painted a large, half-crushed Coca-Cola can on the building and graffiti on the inside wall of the warehouse.
Mele started having an interest in painting after sustaining head trauma, including a concussion, from a car accident. Before the accident, he never had much of an interest in painting and really never developed the talent.
That all changed, somehow, he said.
"I see everything in a different way," he said. "I bought $400 worth of art supplies. I wanted to paint for some reason. I've never drawn faces -- ever. Now, I can draw faces with a pencil and now, I paint them. I never spray painted until three weeks ago."
Mele used to live in Goldsboro and his father was previously stationed at Seymour Johnson Air Force Base. Mele move back to the city three months ago, partly because of downtown development and a focus on the arts.
"I moved back to the area because the downtown area is embracing the arts," he said. "I just saw how they changed downtown."
He's interested in painting more murals after seeing some of the smaller murals in downtown.
David Perry, co-owner of the Holly Street Warehouse, thought the mural would increase exposure for the building, which he leases, as well as the city. The side of the warehouse that's being painted was picked due to its visibility to people driving down Royall Avenue. The warehouse is also near the city's large Holly Street water tank, which is lit during the Christmas holiday season.
"We put it where we did where it's got a lot of visibility," Perry said. "That was the game plan. We thought it would get a lot of attention."
Perry learned about Mele's work during the annual Downtown Goldsboro Development Corp. banquet.
"He's very talented," Perry said. "We've got some talented people in Goldsboro, and that's one way to showcase his talent."
Mele, who painted a smaller, 17-foot-high mural in Raleigh, is also interested in opening an art mural park in downtown Goldsboro. On the Holly Street Warehouse mural is his name and phone number, 919-221-1437.
"I wanted to get into street art and painting murals," he said. "That's why I'm painting this. It's my business card."