Pivoting to delivery of care
By Phyllis Moore
Published in News on October 25, 2017 5:50 AM
Full Size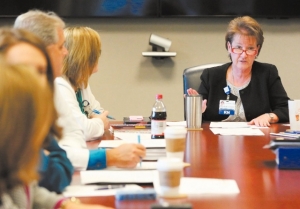 News-Argus/CASEY MOZINGO
Wayne Memorial Hospital Senior Vice President of Patient Care Donna Wimberly speaks during a patients experience steering committee meeting last Wednesday.
Full Size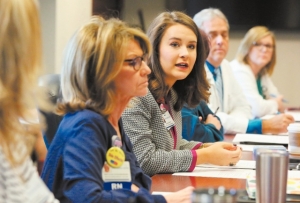 News-Argus/CASEY MOZINGO
Director of patient experience Victoria Baskett shares some of her ideas during a patient experience steering committee meeting at Wayne Memorial Hospital. The new group has not only seen changes in patient satisfaction, but staff interactions as well.
Wayne UNC Health Care's philosophy these days can be boiled down to two words -- patients first.
The sentiment is not new, officials say, but became more prominent since the partnership was forged with UNC Health Care System in 2016.
"We increased our focus on the patient experience and engaging the patients and families in their care," said Donna Wimberly, vice president of patient care. "It can impact the health and the well-being of patients just as much to know that you care about them as that you care for them."
The emphasis on patients and family satisfaction has grown quickly, with one offshoot being the formation of a new position at the hospital, director of patient experience.
Victoria Baskett was hired in that capacity a few months ago. Her own experience as a patient enhanced qualifications for the job.
In June 2013, she had just completed her freshman year at UNC-Chapel Hill when she became ill. She sought medical attention from five different health care providers in five days, being initially misdiagnosed with strep throat.
She wound up having emergency surgery and was later on life support and in a medically induced coma for four days.
The situation -- and a desire to encourage others to be persistent about their own health care -- led to a platform on the pageant circuit and being crowned Miss Goldsboro 2015. She also worked with several agencies and organizations, including memberships on the state and national Patient and Family Advisory Council.
WMH formed its Patient and Family Advisory Council two years ago, and continues to expand efforts to improve the delivery of care.
"I think one of my passions here is that everybody understand that his voice is equally heard," Baskett said. "We do have a complaint and grievance system. Everybody has a right to express their concerns about their care.
"I think a lot of the time through complaints and grievances we find things we can improve on."
The most common concern expressed, Wimberly said, is wait time -- "Waiting to be seen in the ED (emergency department) -- waiting for anything."
While it may be difficult to eliminate that entirely, officials said they are working to improve some of the processes.
Baskett said she interacts with patients and families every day, be it in person or on the phone.
She also spends a portion of her time visiting with patients, making the rounds, just as doctors are known to do.
"I think for me, rounding is the best part of our day," Baskett said.
In fact, "rounding" is a multi-level effort being incorporated at WMH, with the bulk of staff and leadership being trained on the concept as a way to better connect with patients and families. The goal is to make the rounds in all in-patient units, with the exception of mental health, intensive care and obstetrics.
In addition to being beneficial to patients who may not have visitors, the concept is to improve their hospital stay.
From celebrating patient birthdays with a sign on the door, alerting everyone who enters to acknowledge the day, to an extra treat appearing on their food tray, Baskett said there is also a "Sunshine Cart" brought around by volunteers once a week with items to brighten their day.
The hospital has also incorporated things like a charging station for devices in the waiting room and a pet therapy program.
While it is patient-driven and being done in response to input from served by the hospital, the initiative is also proving to benefit staff, said Melissa Shay, vice president of strategy and business development.
"From a non-clinical perspective, it really does offer an opportunity to connect with why we all do what we do but even more important, it gives a unique opportunity of what (staff does) every day and how much they give of themselves and just how important everybody is," she said.
It has also transformed staff into a more cohesive team, Wemberly said.
"It's helped us have a closer relationship," she said, adding, "And we're seeing our satisfaction scores move up, more positive.
"We also are getting lots and lots of letters and emails from people saying that there's been an obvious change since the last time they were here -- about how pleasant and polite staff is. They can tell if you want to be here or not."
The whole concept of "patients first" goes all the way to the top, with hospital president Janey Jaberg leading the charge.
"What we're doing is making a difference, not just with patients," she told the patient experience steering committee recently. "It's making a difference with each other and I think that makes a difference with patients and morale for staff as well."
The 15-member patient family advisory council, comprised of staff and volunteers, is always looking for interested members. There will an information booth set up at Thursday night's "Erase the Fear" breast cancer awareness event on the hospital front lawn.
To learn more about the council, which includes an application and interview process, call 919-731-6353.