Cancer edition 2017: Finding the strength
By Becky Barclay
Published in News on October 8, 2017 4:03 PM
Full Size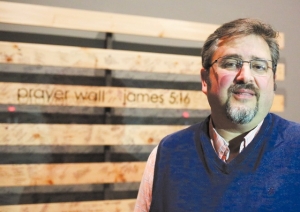 News-Argus/CASEY MOZINGO
Eli Hudson poses in front of the prayer wall at Goldsboro Worship Center on Monday, September 11. A survivor of colon cancer, Hudson's name was written on the wall and circled after this prayer of beating the cancer was answered.
Full Size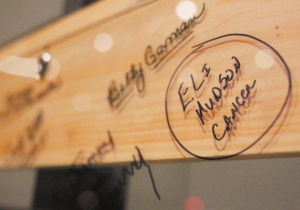 News-Argus/CASEY MOZINGO
Eli Hudson's name was written on one of the Goldsboro Worship Center's prayer walls after he was diagnosed with colon cancer and circled when he found out that he was cancer free.
At 46, Eli Hudson seemed to be the definition of a healthy man, yet he began feeling like he had no energy. After doing blood work, his doctor said he was anemic. That was December 2016.
"I was so mildly anemic that the doctor said if I was a woman, that would be normal," he said. "But it was enough that she was concerned to pursue why because a 46-year-old male shouldn't be anemic."
He was immediately scheduled for a colonoscopy.
"That's when they found out that I had a couple of polyps, and one was that was a big mass where they couldn't remove it," Eli said.
Eli had colon cancer.
"Until somebody tells you to your face that you have cancer, it's hard to swallow," he said. "You can't say you understand because you really don't. I was only 46, this didn't make any sense. I still had a 14-year-old at home that I wanted to see grow up and two other daughters that I wanted to see go on about their life. But I felt like this was the end."
When he had first been told he was anemic, Eli went home, got on the computer and looked it up. He found that anemia could be a side effect of cancer.
"So I sat at 7:45 in the morning at home by myself and was, 'Oh, woe is me,'" Eli said.
He had just lost his father-in-law to a progressive cancer in November 2016.
"He lasted six months," Eli said. "They think it may have started in his colon, but ended up in his liver and part of his lungs. They never really knew where it started because it was so progressive."
It was hard on Eli, his wife Carla and daughters Allison Hudson, 25, Morgan Hill, 21, and Kaytlyn Hudson, 15.
"All we knew was cancer, cancer fast and death," he said. Eli even threw himself a little pity party at first.
"Then I met with my pastor here at Goldsboro Worship Center, an excellent pastor and a friend, to say the least," he said.
But it was one Sunday morning while sitting in the back of his church that something changed for Eli.
"I've heard this Scripture my whole life, Philippians 4:7 that says that God provides a peace that passeth all understanding," he said. "I never really grasped the meaning of that voice until then.
"The church was full to capacity, but all I could hear was God speaking to me. From that day forward, I was at perfect peace with my cancer. He put the right doctors, the right surgeon, the right hospital in place."
After being told he had colon cancer, Eli's first reaction was to go to Duke. But it was going to take time to be seen and then be scheduled for surgery. Eli was referred to Vidant in Greenville.
At this point, the doctors didn't know if Eli would have to have chemo or radiation in addition to surgery.
"There was a lot of unknown going on," he said.
After having his colonoscopy the middle of January, Eli was having surgery to remove the polyp Valentine's Day of this year.
"They took out about 12 to 14 inches of my colon to resection," he said. "The doctor told me that if God was to come down and say, 'I'm going to give you cancer, where do you want it,' he'd raise his hand to colon every time. He said it's the most curable cancer and easier to deal with as long as it's in the right position, the right place. It was high enough up in my colon to not bother anything."
But timing had been everything. The cancerous mass was just about to come through his colon wall, then it would have spread to his stomach, liver, lungs and pancreas.
"Another six months, the doctor told me, would have been another situation," Eli said. "It would have been an incurable situation."
Two days after surgery, Eli went home. The next day, his surgeon called to say the all the lymph nodes they had taken out came back negative for cancer. As far as the doctor was concerned, everything was good and clean.
So Eli didn't have to have chemo or radiation. His stage 2 cancer had been contained in the mass in his colon.
Throughout his ordeal with cancer, Eli had lots of support, something he says is totally necessary.
"I believe this is exactly the order of my support," he said. "God first was my biggest support. Then my family, then my church.
"I don't really know how anybody can go through a situation like cancer without God first or your family or your church. And I don't know how people who don't have those three pieces do it. I had the most support that anybody could have, not from I feel sorry for you, but we're here for you."
Eli said he believes a lot of cancer is a mental thing.
"I think you can defeat a lot of it with your mind," he said. "It's hard, I get it. Maybe mine wasn't as large or as progressive as some people's. I understand that every cancer is different.
"But mentally, that's where you have to be. They said there was a chance I'd have to have chemo, maybe with a pill. Did I want to do it? No. If I have to do it, I'm fine. This to me was a journey, and it was one step to the next step. I took each step each day as it came. I think that's the way you have to do it. You have to take one test result one reaction at a time."
His journey through colon cancer has definitely changed Eli.
"The little things in life don't matter as much," he said. "If my daughter spills a glass of milk, is it that important? No, not really, not really. Life is the most important thing. And where are you going to be beyond this time."
Eli would also tell everybody to not wait until that magic age of 50 to get a colonoscopy.
"They back dated this cancer I had that I had it since I was 38 years old," he said. "Early detection is the key. And if you feel bad, tell the doctor how you feel."