Family owned
By Phyllis Moore
Published in News on June 16, 2017 5:28 PM
Full Size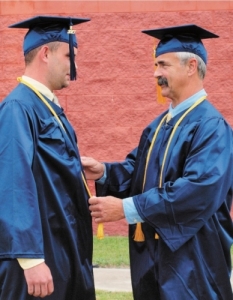 Submitted photo
Rick Coor, right, and his son Colin Coor, recent graduates at Wayne Community College with air conditioning, heating and refrigerating technology diplomas. The duo also graduated from Eastern Wayne High School and share an interest in beekeeping. They both attended the same classes at WCC, sitting together, eating together and working together, and are planning to start an HVAC business together.
Full Size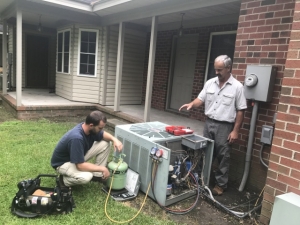 News-Argus/PHYLLIS MOORE
Rick Coor, right, gives his son, Colin Coor, instructions as they check gauges and add refrigerant to a heat pump after performing a diagnostic check. The duo do maintainence at an apartment complex Rick built and owns, were recent honors graduates in the air conditioning, heating and refrigeration technology diploma at Wayne Community College and plan to go into business together.
Like father, like son.
Those words aptly describe Rick and Colin Coor, who have shadowed each other often over the years.
Rick and his wife, Brenda Coor, a hospice nurse at 3HC, have three children, Eric, 30, who lives in New Bern; Colin, 23; and Hannah, 16. They have always been a close family, the patriarch says.
But there is a special bond between him and his middle child.
After graduating from Eastern Wayne High School in 1978, Rick attended East Carolina University, graduating in 1983 with a degree in industrial technology.
He taught technology education at Grantham School from 1990 until 1995 and was also a building contractor.
He acquired some land from an aunt on the outskirts of Goldsboro, which he developed into what is now Walker Ridge Apartments.
He did everything from clearing the land, digging the foundations, designing the buildings and then maintaining them.
All under the watchful eye of Colin, who often traveled around with his dad during the summers.
"When Colin was young, I had a business, Coor Contracting," 56-year-old Coor said. "For health reasons I stopped in 2003 -- 14-hour days are not healthy."
Maintaining the apartment complex has been a shared venture, as there is always something to be done.
The men also enjoy another mutual interest -- beekeeping.
Since 2004, Rick has operated a queen-rearing business, producing the parent stock for other beekeepers. They are members of Tar River Beekeepers out of Greenville, and the Beekeepers of the Neuse in Goldsboro. Rick is also current president of the N.C. State Beekeepers Association.
Coor furthered his education along the way, going to night school and taking continuing education classes in such areas as refrigeration and air conditioning.
Then he and his son decided to enroll in the year-long program at Wayne Community College, in the fall of 2015.
They had often joked about going back to school together one day, Rick said.
Last month, they were honor graduates in the air conditioning, heating and refrigeration technology program.
"We were in every class together -- we rode together, ate together, sat beside each other in the front row," Rick said. "I finished with a 4.0. Colin had a B from three years ago so they made him settle for a 3.8 or 9 or something like that."
Yes, there was a little healthy competition between son and father.
"For a long time we had 100s on every quiz," Rick said. "I fell by the wayside one time.
Outside of class, the Coors had access to equipment and opportunities to put what they learned into practice.
"We knew all along that if we learned, that we have our own workshop here with our apartments, the best workshop you can have," Rick said. "There's 16 units and they have to run. You have to fix them. So that's your grade, whether or not they run."
There was another lesson taking root during all this -- a potential business.
"Now Colin's out of school and we would like to have another contracting business. This time it's not going to be a building business, but a heating and air conditioning business," Rick said.
"The (WCC) program did prepare me," Colin said. "I'm looking forward to it."
Colin still has to get some more field experience before they can become a licensed contracting company. But there is plenty to keep him busy in the meantime.
"What we're doing now is maintaining our equipment, our buildings, and this is our beekeeping season," Rick said.
His son is the more quiet of the two. But while he was listening, he admits his father had "a bunch" of worthwhile wisdom to pass along.
"Things worth having are worth working for. I told you that when you were young," Rick said to his son. "You can't make chicken salad out of chicken feathers.
"And stick with something, stay the course on things."
They have their moments, Rick admitted, but overall the pride -- in his family, in getting to work alongside his son -- is the real accomplishment.
"It's been a good relationship," Colin said. "I enjoy working with him. He's taught me a lot."