Generator, gas range donated to Make a Difference Food Pantry
By Steve Herring
Published in News on June 18, 2017 1:45 AM
Full Size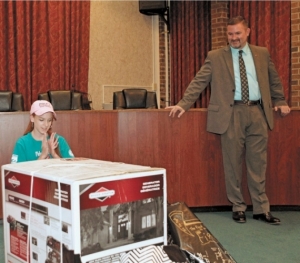 News-Argus/STEVE HERRING
Founder of the Make a Difference Food Pantry Mackenzie Hinson opens a generator donated to the pantry as Mount Olive Police Chief Tommy Brown looks on.
MOUNT OLIVE -- Paper flew as Mackenzie Hinson and her friends, Saylor and London Johnson, ripped into the large package.
Moments later they tore into the second smaller gift.
Mackenzie, 13, clapped and squealed with excitement as the gifts were revealed -- a gas range and a portable generator.
Both will be mounted in a new mobile cooking trailer for her Make a Difference Food Pantry located in the Grantham community.
The generator was purchased by the town of Mount Olive and its police and fire departments. The range was donated by Bobby Denning Furniture in memory of the late Denning.
They were presented during a brief Wednesday morning ceremony at Mount Olive Town Hall.
Once outfitted the trailer will be used to feed about 400 children at 15 different feeding sites through her Mackenzie's Kids Summer Cafe each Friday beginning June 23.
Mackenzie said she was getting ready to unload a truck at the food pantry when her mother told her they had to come to Mount Olive.
"I had no idea what was planned," she said. "It was pretty. I wasn't expecting that."
Mackenzie and her mother, Paige, had just returned to Wayne County Tuesday night after being in Washington, D.C., since Sunday for the Sodexo Stop Hunger Foundation meeting.
"I got a $5,000 scholarship and a $5,000 grant for the food pantry," she said. "There is a $5,000 competition where the winner gets an extra $5,000 scholarship. You can vote at www.tinyurl.com/hungersquad."
The voting ends Monday, she said.
Mackenzie was 10 when she founded the pantry in 2015 with the help of her parents. She served food to 8,000 people in Wayne, Johnston and Sampson counties during Hurricane Matthew in October.
It was through those efforts that police Chief Tommy Brown first learned of the food pantry.
"The hurricane happened on a Saturday," he said. "It was either that following Monday or Tuesday that I heard from Paige. She said, 'I know this is going on, that you have a shelter and need to feed people. Come down here, and you are welcome to anything that we have.'"
The town send people to get food that day and from then on until the shelter closed a week later the town used food from the pantry to feed those at the shelter as well as emergency personnel, he said.
Mount Olive First Pentecostal Holiness Church had its new mobile kitchen at the shelter and cooked the food.
Most likely there would have been many people who would have gone hungry without the food pantry, he said.
The idea for the generator and stove came after Brown found out about the food trailer.
"Paige had called and said they were getting the food trailer," Brown said. "We talked about there would be a need for a generator. I met with (Town Manager) Charles (Brown) and we talked about the fire department, the police department and town going in on thirds to purchase the generator."
Brown had asked Mrs. Hinson if a gas stove would benefit the project. After she said yes, Brown spoke to Donna Gainey, Denning's daughter.
She agreed to donate the stove in memory of her father.