Fun, food and family: Freedom Family Fun Day invites children to play
By Joey Pitchford
Published in News on June 17, 2017 5:18 PM
Full Size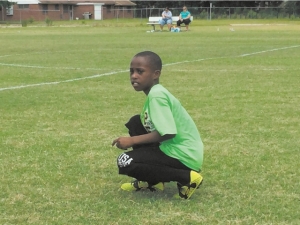 News-Argus/JOEY PITCHFORD
Akil Parker, 9, pauses to readjust his show during Saturday's Freedom Family Fun Day soccer game. Organizer Uhuru Ulyesse said that Akil is a leader both on the field and in the classroom, which is why he is Ulyesse's team captain.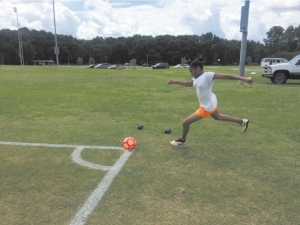 News-Argus/JOEY PITCHFORD
Machala Flores, 10, kicks a corner kick during a soccer game at Saturday's Freedom Family Fun Day. A group of around 15 kids gathered at Fairview park Saturday to compete together
Friendly competition was the theme of the day, as Goldsboro kids came together to play at Fairview Park for the Freedom Family Fun Day event.
Organized by "Coach Freedom" Uhuru Ulyesse, the event was designed to bring together kids and families from the Goldsboro community. Ulyesse began setting up around 9 a.m., with the help of several local volunteers.
Gabe Smith, with Three Brothers Entertainment, worked the grill to provide free food. He said his group comes to events like the family fun day to lend a hand whenever possible.
"We're just out here volunteering, this is how we give back to the community," he said. "During the last flood we were giving food away for free."
A crowd of kids grouped together at the soccer field, running back and forth as they passed and shot the ball. As they played, children would occasionally step off the field for a break, only for the teams to quickly re-balance themselves mid-game. At times, it became confusing to keep track of which team everyone was on, but the players themselves had it all figured out.
Brian Hilliard from Goldsboro Parks and Recreation brought his family out to play. While playing himself, he also helped Ulyesse referee and coach the kids.
Hilliard said he'd heard about Ulyesse's event and figured it was a good cause.
"It just seemed like he was doing a really good thing for the kids, so I wanted to come out," he said.
As the soccer game played on, Ulyesse himself jumped in to join the fun. He seemed to change his style of play depending on who he was matched up against, taking things easier on the youngest players while going harder against the kids he knew could handle it.
One of those children was Xavier White, 10, who Ulyesse referred to as "X-man." Ulyesse said White was his own team's MVP last year, and that he was a leader on the soccer field without saying much.
"He doesn't say anything, but he brings that fire," Ulyesse said.
As the day wore on, the kids eventually moved to basketball. By around 3 p.m. a light rain had begun to fall, and Ulyesse had begun to pack up. He said he was pleased with how the day had gone.
"It went pretty good for the kids who were here," he said. "The turnout could have been a little better, but it was good."