Youth triathlon slated for Saturday
By Phyllis Moore
Published in News on June 18, 2017 1:45 AM
Full Size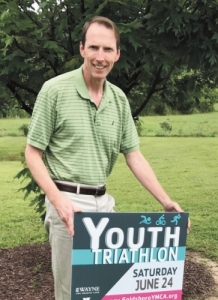 News-Argus/PHYLLIS MOORE
Dr. Greg Nichols stands behind a sign promoting the Youth Triathlon.
Dr. Greg Nichols is passionate about children's health.
Which is why the father of two -- a physician at Goldsboro OB/GYN and member of Goldsboro's triathlon team, Trifectas -- helped organize a youth version of the triathlon, a running, walking and swimming event.
This will mark the second year for the Youth Triathlon, planned for Saturday, June 24, at the YMCA, with expanded ages being invited to participate.
The inaugural event last year was for ages 6-15. There is now a category for ages 9 and under and goes up to age 17.
It is not a competitive event, though, Dr. Nichols points out.
"The goal, again, we want it to be welcoming to folks who have never done a triathlon before or may want to come out and try something new," he said.
This is also an opportunity to get the dialogue started about healthier kids, while offering a fun activity to kick off the summer.
"It's kind of a passion for me, to talk about fitness and nutrition -- you can't talk about one without the other," he said.
About one-third of high school students are overweight or obese, he pointed out, with statistics suggesting that will continue into adulthood.
There are significant consequences for the trend, he said, ranging from sleep apnea and diabetes to more extreme issues like gout and heart disease.
"It's so important for parents to realize we have been given a gift (if) you have a child," Dr. Nichols said. "It comes along with a certain level of responsibility. Part of that responsibility is to steer your children to making wise choices -- what they do, what they think, what they eat.
"I just think you can't reinforce that enough."
One website he recommends often that has lots of useful information on the topic is nutritionfacts.org.
Instilling good habits early on will pay off in the long run, he says.
Some health issues, like pre-diabetes, used to be limited to adults but is now being seen in children as young as 8 years old, he said, while the life span of a child can now be cut by 20 years because of conditions that could be preventable simply by diet and exercise.
"That's something that we as parents should be concerned about," he said. "We're given one body. We're given a gift and I hate to see us essentially not live to our best potential.
"If we take care of our bodies, our bodies will take care of us."
The beginner triathlon, presented by Wayne UNC Health Care, will kick off that Saturday at 7:30 a.m., with staggered starts. Participants are encouraged to arrive 60 to 90 minutes prior to race start.
It originates at the Y pool, continues in neighboring areas and concludes at the Y.
Breakdown for the triathlon will be the following: Ages 9 and under, 25-yard swim, one-mile bike and one-half mile run; ages 10-12, 50-yard swim, two-mile bike, one-mile run; and ages 13-17, 75-yard swim, three-mile bike, two-mile run.
There will be a free clinic for swimming and transitions offered for registered participants at the Y on Friday, June 23, from 5:30-6:30 p.m. Bring swimsuit and athletic clothing and shoes.
Otherwise, the only required equipment is swimsuit, running shoes and socks, bicycle and helmet. Swimming goggles are optional, but helpful.
In the event of weather concerns, updates will be provided at the Y's website, www.goldsboroymca.org. Any changes will be announced on race day at 6 a.m.
Registration forms are available at the Y or online at www.runtheeast.com. Registration fee from now until June 23 is $35.
Packets may be picked up at the YMCA on Friday, June 23, from 5-7:30 p.m. or on race day beginning at 6:30 a.m.
For more information, contact Kriquette Davis at 919-778-8557.