Caring community
By Joey Pitchford
Published in News on June 18, 2017 1:45 AM
Full Size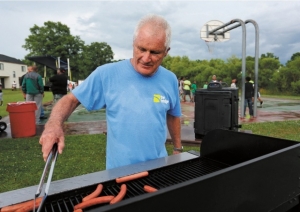 News-Argus/CASEY MOZINGO
David Alexander grills hot dogs while volunteering with The Bridge Church Saturday during the Our Community Cares Fun Day at West Haven Apartments. Despite a brief shower around the beginning of the event residents came out to listen to music, watch performances and enjoy the free food.
Full Size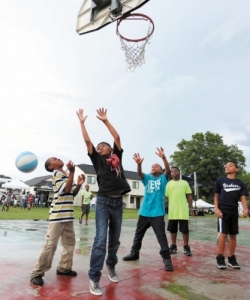 News-Argus/CASEY MOZINGO
A group of boys plays basketball during the Our Community Cares Fun Day at West Haven Apartments.
Full Size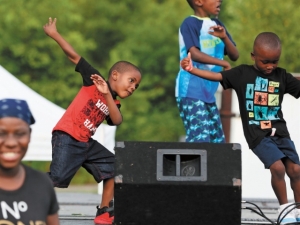 News-Argus/CASEY MOZINGO
At left, Jhamir Howell, 4, and several other children dance on stage to music being played between performances during the Our Community Cares Day at West Haven Apartments Saturday.
As summer begins and kids are out of school, bringing the community together becomes more important than ever.
That was clear Saturday, as dozens of people flocked to the West Haven community for the third Our Community Cares Fun Day event. Sponsored by the City of Goldsboro in coordination with a slew of churches, non-profits and city organizations, the event offered a way for people to have fun while also giving them access to valuable resources.
Shycole Simpson-Carter, Goldsboro community relations director, said that these kinds of events are as valuable to city government as they are to the people attending them.
"It's a way for us as the city to get out in the community speaking with people," she said. "We want to get people to be comfortable coming to us with the issues they're having."
As music played and children danced by the stage, a pair of large vans were set up along one side of the area. One of those vans came from N.C. Works, a state program which uses mobile "career centers" to help people find employment.
Steve Finger, who drives the career centers, explained some of the resources available to job seekers.
"They can come in here, open up a computer and do a resume, job search and sometimes we'll have employers on site who will do interviews in here," he said. "We're trying to help the community."
Finger said that communities like West Haven often have a high concentration of young people who may not have the knowledge necessary to find a job. Being able to bring that knowledge directly to them, even if only a handful come inside to take advantage of it, makes a difference, he said.
"If we get even five, that's fantastic," he said.
The other van came from the Bridge to Hope mobile medical clinic, where anyone could come in and get a free medical screening including blood pressure, glucose levels and other variables. Physician's Assistant Regina Gurley said three people had already come through hardly an hour into the event.
Over by the stage, Mayor Chuck Allen and members of the Goldsboro Police Department and Wayne County Sheriff's Office danced on stage with a group of children. One of them was 4-year-old Eli Bradshaw.
Eli's mother, Shakia Bradshaw, said that events like the community fun day were a good thing for her son to experience growing up.
One of the men instrumental in making the event happen was Howard Bass, president of the Goldsboro Housing Authority's resident council. Having spent 12 years working for the Chicago Housing Authority, Bass said that having ways to bring people together is paramount.
"Any event in public housing, if it's for the children, it's a good thing, because it exposes them to something other than what they see every day, and what they see every day is not always good," he said.
Despite a heavy rainfall which struck right as the event was setting up, turnout was the highest of any of the three fun day events thus far. Bass said it was encouraging to see that kind of engagement.
"I didn't expect this, but I'm happy with it," he said. "I'm going to have to build on it."