Brave new world: New graduates of Southern Wayne High celebrate with family and friends
By Steve Herring
Published in News on June 16, 2017 7:37 AM
Full Size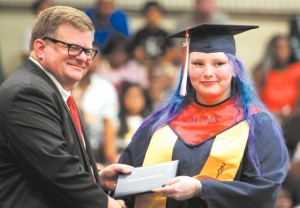 News-Argus/STEVE HERRING
Victoria Deem added a blue tint to her hair and glitter to her face to celebrate her graduation from Southern Wayne High School. Presenting her diploma is Principal Dr. John Boldt.
Full Size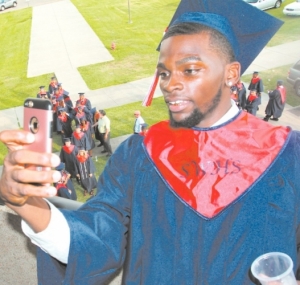 News-Argus/STEVE HERRING
Bless Thomas climbed the outside steps at Kornegay Arena to take a selfie.
MOUNT OLIVE -- Broadway is a long way from the stage Southern Wayne High School's freshly minted graduates walked across Thursday night.
But now that Olivia Simmons has made that walk she is ready to tackle the larger stage.
Miss Simmons was among the 241 Southern Wayne High School seniors to receive their degrees during the school's Thursday night commencement ceremony in Kornegay Arena on the campus of the University of Mount Olive.
"It is bittersweet," she said. "I am ready to graduate, but at the same time I will miss everything. I am definitely going to miss cheerleading and SaintSound. They are the main two things that I absolutely love from my whole high school years.
"This is truly sad, but at the same time I am happy."
Miss Simmons said she would work over the summer before attending Wayne Community College in the fall. Afterward, she hopes to attend Howard University in Washington, D.C., and major in musical theater.
"I intend to be on Broadway," she said.
She said she would not call the trip across the graduation stage a rehearsal, but that it was good practice walking across a stage. She was even wearing high heels because even if they hurt "you just have to look good no matter how much you are in pain," she said.
"The past four years can be easily summed up by one quote that any senior, who actually opened the summer reading books, should know," valedictorian Cassidy Mason said. "'It was the best of times, it was the worst of times.' Charles Dickens was not necessarily describing our high school experience, but he might as well have been."
Southern Wayne provided seniors with an environment for learning, but an education was not all that they gained from the school, she said.
Seniors created long-lasting friendships and built relationships with teachers who taught them more than just the curriculum, Miss Mason said.
The seniors experienced a year of lasts -- last football game, last club meeting, last homecoming week, last awards night.
And they have walked the halls of Southern Wayne for the last time as students and it is their last chance to be together as one family, she said.
Graduation is the beginning of a whole new set of firsts, and where life really starts, Miss Mason said.
"The past 13 years of school have just been a trial run for the future," she said. "The real world is waiting for us out there. After today, we have to start being real adults. It is a slightly disturbing thought for me, as well as for many of our parents, I'm sure.
"However, I know for a fact that this class is filled with wholesome, good-hearted people who will make excellent members of the adult world. As I look into the crowd, I see future doctors, lawyers, artists, mechanics, soldiers, and a ton of broke college students. The possibilities for our future are endless. Ralph Waldo Emerson once said, 'Do not go where the path may lead, go instead where there is no path and leave a trail.' Let us leave a trail for others to follow."
Miss Mason challenged her classmates to seek greatness and quoted Gandhi, who said, "Be the difference you want to see in the world."
Salutatorian Louise Freeman said she felt that she was speaking for the entire class when she said they had never thought graduation day would arrive.
"But now that it's here, I wouldn't mind just five more minutes as a Saint," she said. "Well, we did it. Some of us may walk out of these doors today and never look back. Some of us may cry tears of joy. Some of us may feel a little lost. Some of us may not know what to do next.
"I am here to tell you all that it is OK. It is OK to feel lost and it is OK to not know. It is OK to be sad. Southern Wayne will always be a part of who we are."
While it is time for classmates to go their separate ways, Miss Freeman asked that they not forget where they came from.
"Whatever you decide to do, make sure that it makes you happy," she said.