City parks and rec offer fishing trips for children
By Joey Pitchford
Published in News on June 16, 2017 7:37 AM
Full Size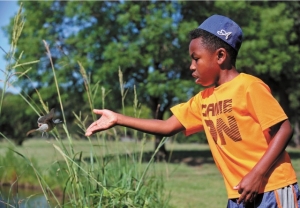 News-Argus/CASEY MOZINGO
Kavien Scarborough, 8, tosses a fish back into a pond off Providence Church Road Wednesday during fishing camp. The camp is the first of several sports camps sponsored by Goldsboro Parks and Recreation.
Getting 21 children to patiently wait on anything is ambitious at best, but the Goldsboro Parks and Recreation fishing camp is showing it can be done.
The camp is the first of several sports camps Goldsboro Parks and Recreation has planned for the summer, and is running through this week.
Camp counselors and campers gathered around a pond owned by E-Z Bait and Tackle owner Gary Bevell, casting their lines into the water.
Tyler Ham, center leader at Herman Park Center, said that the center will offer camps on all kinds of sports throughout the summer. Fishing, however, is a special case.
"Well, to start with, we as the counselors love it," he said, reeling in an empty line. "Fishing also takes a lot of patience. As you can see, you can't just cast out every time and catch something, and that's a good skill to pass down."
Requiring such patience might not make fishing the conventional choice for a group of children. However, Ham said, offering something a bit less conventional is part of an overall plan to cater to diverse recreational preferences.
"Everybody's recreation is different. For some people it's reading a book, or playing video games or other things," he said. "We want to make sure we hit everyone's interests."
One camper who was certainly interested was 10-year-old Kai Heinrichs. He said he has been going to the fishing camp for several years now, and brought his own bait and tackle box with him to the pond. Casting his line into the water, Kai talked about what makes the fishing camp such a good fit for him.
"You get to go to a bunch of different lakes and ponds, and you get to meet different people," he said.
Kai quickly caught three fish, which he kept together with a length of rope submerged under the water.
Crossing the pond's wooden bridge to the other side, several other campers and counselors spread out. Trey Louis, 9, stood patiently at the water's edge, waiting for his first catch.
Sitting off to the side of his counselor, Trey eyed the water with a practiced eye which belied his relative inexperience. When the moment finally came and the first fish was on the hook, Trey made sure he didn't miss his chance.
Everyone could hear him shout "I got one!" as he reeled in his prize.