School celebrates its rich history
By Phyllis Moore
Published in News on June 14, 2017 7:00 AM
Full Size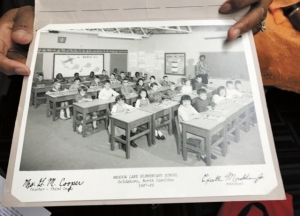 News-Argus/PHYLLIS MOORE
Gwen Cooper, one of the first black teachers at Meadow Lane Elementary School, shared this photo of her first group of students when she started at the school in 1967-68.
Full Size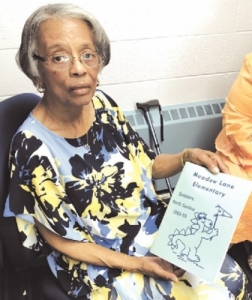 News-Argus/PHYLLIS MOORE
Gwen Cooper, one of the first black teachers at Meadow Lane Elementary School when it integrated in 1967, joined past and present teachers and staff at the school on Tuesday.
It was like old home week at Meadow Lane Elementary School on Tuesday morning, as more than 200 past and present teachers and staff gathered for a reunion of sorts.
As the school anticipates a portion of the building being demolished over the summer in preparation for new construction that will be shared by Meadow Lane and Edgewood Community Developmental School, it seemed like the perfect time to reunite those who are part of its history.
Gwen Cooper arrived early, armed with a tote bag of memories -- including a yearbook and a class photo of her first third-graders.
She was the first African-American teacher at the school, having graduated from Fayetteville State Teacher's College (now Fayetteville State University) in 1960. Her first five years in the profession were at Pikeville Training School, from where she had graduated in 1956, followed by two years at Norwayne School.
"My principal came to me and said that they needed a black teacher from Norwayne School to go to Meadow Lane School," she recalled. "After some lengthy discussion I went in 1967 to 1968.
"My principal told me to go and give it my best and if I didn't like it, I could return. And I gave it my best for 23 years."
There was one other black teacher there at the time, she said -- Minnie Warren.
Ms. Cooper taught third grade for eight years, in Room 33, and then spent 15 years teaching fourth grade.
"Most of those 15 years I was in Room 6, on the fourth grade hall," she said.
She has fond memories of her time at the school, bolstered by her "strong faith in God" as well as the preparation she received in college and previous classroom experience.
"I found that all children can learn," she said. "They have the ability to learn.
"There might be some differences but that doesn't make them bad or good. All children are unique in their own way."
Meadow Lane had a diverse culture back in the day, she said, many from military families.
"I enjoyed listening to their stories, where they went to school and where they traveled," she said.
The 77-year-old -- she'll turn 78 next month -- retired in 1989 but continued to substitute at Meadow Lane and other schools for another 20 years.
"After I became 70 I decided it was time to give it up," she said.
Mollie Coor was one of the first teachers when the school opened, in 1958.
"I was thrilled, we all were," she said of those early days in a brand new school. "Our children were all military children.
"I was on the first faculty. I'm 80 years old now."
She was there until she took maternity leave in 1959, returning in the fall of 1961.
Now 80, she believes she may have been the youngest teacher that first year, she said, then 21.
"I had finished out the year at Brogden the year before but my first full year was at Meadow Lane," she said.
As the front office area began to fill with arrivals, the decibel level rose and hugs abounded.
Shirley Richardson taught fourth grade from 1987 until 2003.
Vernell Harper was part of Meadow Lane's EC, or exceptional children's department, for 16 years.
Melda Langley started in 1972, teaching second and third grade over the years.
Barbara Harrison was there from 1962 until 1997, teaching fourth grade and then second.
From 1960 until 1992, Ramona Mitchell spent the bulk of her career with third- and fourth-graders, then was at Greenwood Middle School two years before retiring.
Susie Meadows started at the school in 1961, having previously been at Walnut Street School.
"It was petitioned off in four rooms in the gym," the former first grade teacher remembered of her initial days at Meadow Lane.
She retired in 1995, after a 35-year career.
She was excited not only for her own reunion but that of her daughter, Donna Sue Zubek, visiting from Germany, who had been a student at Meadow Lane and was looking forward to seeing some of her own teachers.
"I'm seeing people I haven't seen in so long," Mrs. Meadows gushed as she looked around the room.
"It's wonderful," Pearl Grady agreed.
A first grade teacher from Aug. 1976 until April 1993, she was assistant principal at the school from 1993 until 2003.
"We had good students. We had good parents. They were easy to work with and we always had a good administration," she said.
But for Monica Applewhite, secretary for N.C. Power Schools data since 1987, it was a different kind of celebration.
"I'm retiring June 29 at 4:29 p.m.," she said with a laugh. "This is like one big party for me!"