Resident says his dog was shot at during break-in
By Ethan Smith
Published in News on June 5, 2017 2:26 PM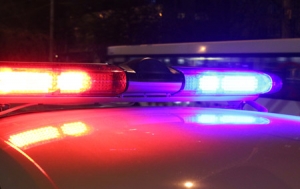 Someone kicked in the front door of a home and shot at a dog early Saturday morning, according to a Wayne County Sheriff's Office report.
The report said two people were asleep inside their home at 120 Peele Road when they heard a loud noise.
The resident sent his German shepherd to investigate the noise and heard several loud bangs, thinking the neighbors were shooting off fireworks, according to the report.
The report said the man went to investigate and discovered his front door had been kicked in and whoever entered the home had shot at his dog.
"He turned the dog loose when he heard someone trying to get inside," said Maj. Tom Effler with the Wayne County Sheriff's Office. "That's when the shooting started in the house."
Authorities responded to the home and found six shell casings and four bullet holes in the residence, according to the report.
Effler said the dog was not shot.
Anyone with information about this crime, or any other crime in Wayne County is asked to call or text Crime Stoppers at 919-735-2255, or submit information at tipsubmit.com.
Callers can remain anonymous and information leading to a felony arrest will be eligible for a cash reward.