Wayne Pregnancy Center expands in new location
By Phyllis Moore
Published in News on June 6, 2017 7:00 AM
Full Size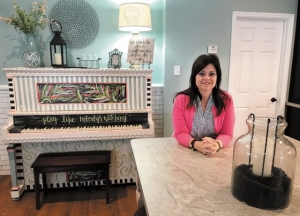 News-Argus/PHYLLIS MOORE
Beverly Weeks, executive director of Wayne Pregnancy Care Center, is pictured at the new location of the non-profit ministry.
Full Size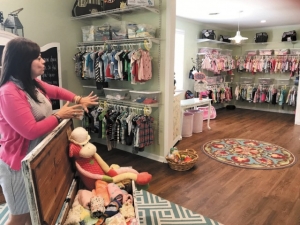 News-Argus/PHYLLIS MOORE
Beverly Weeks, executive director of the Wayne Pregnancy Care Center, explains about Sugar and Spice, the baby boutique divided into boys and girls clothing and baby items. Clients attending classes at the center in such areas as parenting and life skills can earn free bonus bucks to spend in the boutique, she said.
Wayne Pregnancy Care Center is more than a ministry -- it's a community outreach, says executive director Beverly Weeks.
Her heart breaks for some of the young people in this community, she says.
And not just those with an unplanned or unwanted pregnancy.
Weeks said she had a passion for helping young men and women involved in human/sex trafficking.
"You may not realize this but our state of North Carolina has the third highest numbers for human and sex trafficking, one reason being because of our major interstate highway," she said.
She shares about the young woman who was forced into prostitution at age 6, by her mother, a drug addict. Weeks has been helping the woman who is now 20 for the past two years.
Mrs. Weeks' approach is simple, she said.
"I try to build trust with these people, establish a relationship with them -- meeting people where they are and not where we think they should be," she said. "To me, Christianity is not about legalism. It's moving with the love of Christ.
"It's one thing to tell them, 'We want you off the streets.' What do we give them?"
Wayne Pregnancy, in its 15th year in Goldsboro, was launched as a non-profit ministry for all races and faiths, said Mrs. Weeks, who was hired four and one-half years ago.
It recently relocated about a mile up the street from its former home near the Senior Center.
The board made the decision to buy a new building on Ash Street when the site formerly occupied by Missions to Military became available, she explained. The move meant no longer paying rent to the county, while doubling the office space.
At the outset, however, they were told it would cost in the neighborhood of $75,000 for renovations. That was money the center did not have.
Donations took care of that.
From the furnishings to the wall hangings and an expansive kitchen, much of the decor was collected from vintage stores and bargain locations like the Habitat store.
Even paving the parking lot this past week was taken care of, after a Wilson company read something about the ministry on Facebook and volunteered to provide the service free of charge.
And now they hope to share their good fortune, she said.
"What we are wanting to do is to open up this building not only for our ministry but other non-profit ministries in the community to use," she said "We have invited others like Habitat for Humanity and InJoy, they can use the room for board meetings.
"This is not just our building. God gave us this building. We want it to be community outreach."
Local physicians, Dr. Stephen Lies and Dr. William DeAraujo, are medical advisers for the program.
On average, the center sees between 400 and 500 clients a year.
"I think it's important for the community to know what we do," said Mrs. Weeks. "We provide free pregnancy tests and free limited ultrasounds because we feel when that young mother or that young father sees there's a heartbeat there and it's not just a blob of tissue -- they have an actual life inside of them -- they can make an informed decision."
The center also works with the court system, offering classes for parents trying to reunite with their children. And for those who may have gone through an abortion and experienced psychological issues in the aftermath, there is a post-abortion support group.
"It's a Bible study that we take her through. It's a healing Bible study program," she said. "We actually give her an opportunity to name her child. We have a memorial service for her child."
Staff also go into schools to conduct a sexual abstinence program using state-approved materials.
And of course, the center offers mentoring services and classes.
"We want to provide life skills, like how to find a job and parenting classes, relationship-building classes, we'll teach them cooking skills," she said.
Clients are placed in classes, where they can actually earn resources for their babies, by earning "fake Monopoly money" they can use to shop in the center's baby boutique, she said -- featuring baby food and supplies, as well as clothing.
The effort is more than a chance to receive free stuff, she explained. It gives them value and self-esteem.
"We do not get any kind of federal or state funds," Mrs. Weeks pointed out. "We are funded by local churches, businesses and individuals."
They rely upon the generosity of this community, she said -- from gently used and new baby items for the boutique to financial donations. All donations are tax deductible.
Volunteers are also needed, to work in the baby boutique or those with clerical skills.
Or to just "love on these young men and women," she said.
The public is invited to an open house at the center, located at 3501 E. Ash St. across from Meadow Lane Elementary School. It will be held Thursday with free tours from 10 a.m. until 7 p.m.
Other Local News