New hospital leadership looks to exceed patient expectations
By Steve Herring
Published in News on June 6, 2017 7:00 AM
Full Size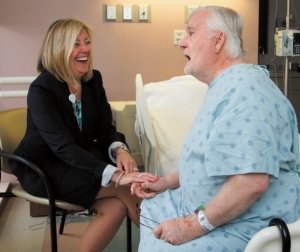 News-Argus/STEVE HERRING
Wayne UNC Health Care President and CEO Janie Jaberg, left, talks with patient Richard Smith. Mrs. Jaberg makes rounds at the hospital every day.
Full Size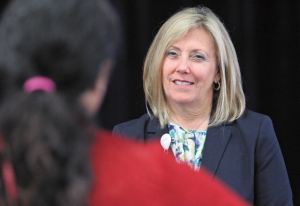 Janie Jaberg, Wayne UNC Health Care president and CEO, fields questions at a town hall community meeting recently at Stoney Creek Free Will Baptist Church.
Richard Smith scoots to the edge of his hospital bed and reaches out to take the hand of his visitor as he regales her with stories.
They laugh like old friends as he talks of his time as an Army medic.
But then Smith's mood turns serious. His voice crackles with emotion as he talks of how well he is being cared for by the nurses and staff at Wayne UNC Health Care.
The visitor, hospital President and CEO Janie Jaberg, smiles wider as Smith continues.
Since she was named CEO and president last August, Mrs. Jaberg, a former operating room nurse, has made rounds, visiting with patients and families.
Her leadership team members also make rounds.
They do so to ensure the hospital is exceeding patient expectations and to gather feedback -- good, bad or indifferent -- to help transform what she calls a good hospital into a great one.
That includes a culture of people being friendly and greeting each other at the hospital, she said.
Nor is Mrs. Jaberg limiting those rounds to the hospital floors.
The gregarious Mrs. Jaberg has held a number of community town hall style meetings at churches and libraries.
She also delivered the commencement address at last month's University of Mount Olive spring graduation.
She tells people that a community the size of Wayne County is fortunate to have such a large facility offering a variety of quality and technologically advanced services.
"I wanted to go into nursing when I was with my dad when he died," she said. "I was 16. I knew then that was what I wanted to do. I had been a lifeguard so I knew CPR. I tried to help him, but unfortunately he was already gone. So I knew then that was the path that I wanted to take."
She was raised in Florida, but moved to Ohio just before her senior year in high school.
Her mother took her to the school of nursing for an interview -- a story she likes to use to illustrate a life lesson.
The dean looked at Mrs. Jaberg's transcript and told her that her math grades were not very good.
The dean told Mrs. Jaberg she did not think she would make it in nursing school.
"Basically you are not smart enough," Mrs. Jaberg said. "Obviously that devastated me. But even at that young age my mom had taught me go after what you want if you have the drive, the ambition and the passion."
Mrs. Jaberg searched for another way to gain health care experience and went to the University of Akron where she earned a degree in surgical technology.
Her professor asked Mrs. Jaberg why she had not attended nursing school. Mrs. Jaberg told her the story.
The professor told her to take the transcript back to the nursing school.
"So I went back, this was almost two years later, same dean," she said. "I didn't know that my professor had called her. She said, 'Yes Janie, I expected you."
Mrs. Jaberg handled the dean the transcript.
"She looked at me and said, 'I made a mistake,' because I had straight A's and did very well," she said. "And there was a lot of math in it as you can imagine. So I got into nursing school.
"So it was an easy thing for me to transition into the OR as a nurse because I was already a surgical technician. I worked my way through nursing school as a surgical technologist. I worked 12 to 8:30, and I went to nursing school."
When she got into the operating room she discovered a like for orthopedics and open heart procedures which have nothing to do with each other except that they are technological, she said.
And both provide a chance to spend some time with the patients, Mrs. Jaberg said.
She kept accepting more and more responsibility -- something that she found she also enjoyed because she felt she was making a difference.
"And I was making a difference in a lot of different ways," she said. "At least I was hoping that I was. Before you know it somebody says, 'Janie, we need somebody to be the assistant manager of the orthopedic division of the operating room.'
"I was really young, but I had a wonderful mentor."
That was the beginning of Mrs. Jaberg's transition into health care administration.
She became the department director and thought that was it, but her journey into leadership was far from over.
Prior to being named president and CEO at Wayne UNC Health Care, she served for two years as vice president of regional operations for Carolinas HealthCare System in Charlotte.
"People ask me all time, 'If you knew then that you would be a CEO, what would you have thought,'" she said. "Never would have ever guessed, ever guessed that I would ever have the opportunity to hopefully make some good impact on my team and my patients every day."
Mrs. Jaberg said that when she got her first CEO role she had talked with someone in a "very executive position" in health care. He said to her, "another nurse away from the bedside."
Her response was, "Nope, another nurse at every bedside."
"I have a perspective that other clinicians that are in this role don't," she said. "I've been at the bedside. I have been with somebody who is having a baby, who's dying, which is tough, who is having a crisis or with those families.
"So I feel what my team deals with every day. I think that helps me be a better CEO. I don't know if everybody agrees with that, but it makes me feel like I can at least acknowledge what their day is like and what they are going through."
Mrs. Jaberg said that listening before reacting is very important to her.
She said she listened during her interview for the job.
But she said that until she got to the hospital and spent time with the leadership team that it would have been difficult to make decisions on what she needed to do.
Because of past experiences there are things that Mrs. Jaberg said she knows to look for such as interaction between teammates and people being held accountable.
So within the first few months she said she knew there were some directions she thought the hospital should go and things it needed to do.
"I think the leadership here before me did some great stuff," she said. "Everyone is dealt a certain set of circumstances and you react to it at that time. So the growth I have seen here, I think (former president) Bill (Paugh) did a very good job with that.
"My focus was developing a team that focuses on the patient experience. My motto is patients first. It won't ever change. Sometimes decisions are challenging to make, but ultimately those patients that are either here in this hospital or in one of our practices or wherever they are."
Mrs. Jaberg is married to Clair Jaberg and has two daughters and two granddaughters. Lauren Sigler and husband Chris live with their daughter in Mount Pleasant, S.C., and Julie Nowicki and husband Ryan live with their daughter in Olmstead Falls, Ohio.
She enjoys reading murder mysteries and books about people working to find the cure for some disease threatening to destroy the world.
She used to sing, having spent some time with a jazz band while in college. She also has sung at weddings and funerals.
Mrs. Jaberg has played keyboards for years.
She enjoys spending time with her family and friends and her three rescue dogs, shopping, the beach and kayaking.
Other Local News