U.S. 13 reopens after hog truck collides with car, man suffers serious injuries
By Ethan Smith
Published in News on May 24, 2017 6:51 PM
Full Size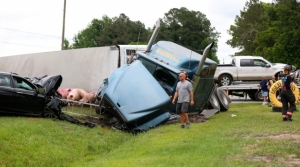 News-Argus/CASEY MOZINGO
Hogs stand outside of the wrecked truck after a collision that shut down U.S. 13 this afternoon.
A Virginia Beach man initially thought to be in critical condition is now expected to survive with serious injuries after being struck head-on by a hog truck along U.S. 13 this afternoon, the N.C. State Highway Patrol said.
John Hamilton, 47, of Virginia Beach, Virginia, was driving the car hit by the tractor-trailer and remains at Wayne Memorial Hospital, Trooper J.T. Creech said.
Sgt. J.K. Whitley said the highway reopened at 6:45 p.m.
Creech said the wreck happened around 12:30 p.m. today when the hog truck, driven by 23-year-old Christopher Howell of Goldsboro, swerved to miss a Ford F-150 pickup truck that was stopped and waiting to make a left turn onto West Hill Street.
Creech said Howell could not stop and swerved off the road to the right before coming back onto the road, clipping the pickup truck, crossing the center line and striking the Honda Accord driven by Hamilton.
The tractor-trailer overturned and came to rest in the ditch.
Howell is charged with reckless driving, Creech said.
Creech said the driver of the F-150, Nathan Coker, 18, of LaGrange, suffered minor injuries but was not taken to the hospital.
Creech said of the 183 hogs Howell was carrying from Greene County to Sampson County, 21 were killed.
Don Butler, Director of Corporate Affairs for Smithfield Foods, said the surviving hogs that were not seriously injured will go on to market.
Traffic was rerouted at Saulston Road and Hill Loop Road while the highway was shut down for about six hours.
Misael Hernandez, owner of Lowriders Tire Sales, captured the wreck on video while recording a Facebook Live video to post to his company's Facebook page.
He said he heard a loud noise and saw the truck collide with the car and crash into the ditch.
"I was in shock," Hernandez said. "I thought the truck was going to come all the way into the shop."