Tornado warning in effect for part of Wayne County until 6:15 p.m.
By News-Argus Staff
Published in News on May 24, 2017 5:53 PM
Full Size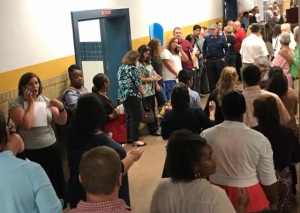 News-Argus/CASEY MOZINGO
A tornado warning for Wayne County causes an evacuation of the Goldsboro High School auditorium for Wayne School of Engineering graduation.
The National Weather Service has issued a tornado warning for the southwestern Wayne County near Grantham until 6:15 p.m.
The warning is also extended to the north central portion of Sampson County as well as southeastern Johnston County, including Four Oaks, Newton Grove and Hobton.
According to the warning, at 5:30 p.m. severe thunderstorms capable of producing a tornado was located 12 miles north of Clinton with the radar indicating rotation.
The National Weather Service says to be aware of flying debris for those caught without shelter and mobile homes can be damaged or destroyed.
To be safe, the weather service advises people in the area of impact move to a basement or interior room, avoid windows and if outdoors move to the closest substantial shelter for protection.
As a result of the weather alert, the graduation ceremony at Wayne School of Engineering has been suspended and the crowd has been evacuated into the hallways of Goldsboro High School.
A Goldsboro News-Argus reporter and photographer are on scene and will be updating this story as developments warrant. Please follow us on Twitter at the handle @newsargus for up to the minute information.