Air Force dad's reaction on daughter's birth video goes viral
By Phyllis Moore
Published in News on May 11, 2017 7:53 AM
Full Size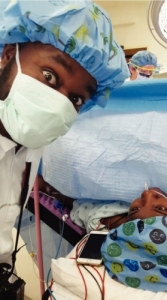 Submitted photo
Wide-eyed Marvin Duré, a staff sergeant at Seymour Johnson Air Force Base, prepares to tell his wife, Magniola, that their firstborn child is a girl. The video clip of the April 25 birth at Wayne Memorial Hospital has gone viral, already receiving more than 38,000 views.
Most people think of the gender reveal as something that happens in the midst of pregnancy, an opportunity for a couple to learn the sex of their baby surrounded by family and friends.
For Marvin Duré and wife, Magniola, they decided to go old school and find out in the delivery room, when their firstborn came into the world.
Their private moment, though, and his reaction when he discovered it was a girl and announced it to his wife, has gone viral.
Decked out in blue scrubs and cap, his wife shielded by a sheet, it was up to Duré to let her know.
On the video the baby can be heard crying in the background, someone asking, "What is it?"
"Ohhhhh," Duré answered, anxiously moving about, eyes wide in the clasp shot.
"It's a girl," he exclaimed, leaning down to tell his wife.
Melodie Faith Duré was born April 25 at Wayne Memorial Hospital, weighing 7 pounds, 2 ounces and measuring 22 inches long.
The Brooklyn, N.Y. couple returned to Goldsboro almost a year ago, where the staff sergeant is stationed at Seymour Johnson Air Force Base. He was previously stationed here from 2010-2013.
"This was my first base," he said.
The couple only recently agreed to wait until delivery to learn the gender, Duré said. His wife had wanted to know in advance but he "kind of talked her into it," he said and she was on board.
The plan was for him to have a camera and capture the experience. He also told the doctor that he wanted to be the one to tell his wife the baby's gender.
They did have their own predictions going in, he said.
"She thought it was going to be a girl and I thought it was going to be a boy," he said. "We had like a bet in our family that pretty much, if it was a girl she'd get a push gift and if it was a boy, I'd get a gift from her."
While he admits he was hoping for a junior version of himself and his wife had similar feelings about a baby girl, Duré said he had felt a tug at his heart to have "daddy's little girl."
And then came the moment they had anticipated.
Magniola wasn't able to see because of the drape separating the couple from hospital staff working to deliver their child.
Duré had his camera in hand and the anesthesiologist took his phone to record the moment.
"When the baby came out I was just like, it was just a miracle for me honestly, to see the baby come out," he said. "I just froze.
"I was elated, so happy, shocked and everything."
Swept up in the excitement, it took him a few seconds to come to his senses, he said with a laugh.
But he knew it was up to him to make good on the promise to share the news with his wife.
"That's when I announced that it was a girl," he said. "But I was in shock at the moment."
It has been an incredible experience, he said Wednesday.
Bringing home their own baby, nestling in to their new roles as parents, Duré said his heart is full.
And his daughter is already showing her personality.
"She's very attentive but she's funny," he said. "I don't know if I can explain funny, but she does a little dance and it's just her.
"And then she'll look at you like she wants to sleep all day but then she'll open like one of her eyes and just start looking at you. Then she'll smile and shuts her eyes and goes back to sleep."
The proud papa said he had no idea the 15-second delivery room video posted on his YouTube, Instagram and Facebook accounts would gain traction.
"It was pretty much for all of the people that I knew," he said. "I don't know what happened but a day or two later someone from LittleThings.com contacted me and wanted to use it on their site. They said they liked the video and wanted to use it and advertise it on their site, on their page.
"After that it just started one thing after another. And now we're here, at 38,000-plus views."