Wayne Communtiy College graduates more than 1,200 students
By Phyllis Moore
Published in News on May 12, 2017 7:54 AM
Full Size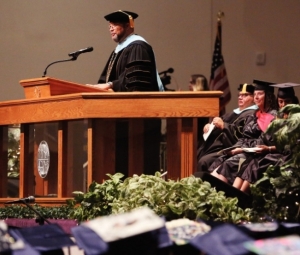 News-Argus/CASEY MOZINGO
President of Wayne Community College Dr. Thomas A. Walker Jr. welcomes graduates and their friends and family to Love Temple for the Spring 2017 Curriculum and Commencement Exercise Thursday. Commencement was split into two ceremonies, one in the morning and one late afternoon.
Shirley Hoyt-Hicks was beaming Thursday morning as she scanned the parking lot at Love Temple for family coming to support her at the Wayne Community College graduation.
But it wasn't just because she had learned the day before that she had earned a 3.99 grade-point average.
Her six-year journey to the associate degree included four brain surgeries and a lot of prayers, she said.
"I wanted to show my kids, no matter what, just keep going," she said. "If you keep living, life is going to throw some stuff at you. You have got to just keep moving.
"I told my kids, if they took my brain out and put it on the table four or five times, they can do anything."
After six yrs, 4 brain surgeries Shirley Hoyt-Hicks, graduated from Wayne Community College w/3.99 GPA Story in Friday's News-Argus. #wcc pic.twitter.com/xO6UEEdLsA

— Phyllis Moore (@pmooreonj) May 11, 2017
The 46-year-old mother of five, grandmother of three, has a story to tell. Her firstborn had cancer at birth; she lost her husband of 10 years in 2010.
Those experiences propel her to push on, she said, because she has a deeper understanding about some of life's challenges.
Her goal is to become a chaplain, ideally at St. Jude's Hospital in Tennessee.
"There needs to be a ministry just for this," she said. "I think that's why I will be an effective chaplain because I have been through what the people are going through.
For now, though, she starts online classes in the fall, through Harvard University.
WCC held two curriculum graduation ceremonies Thursday, in the morning and afternoon, to split up the growing numbers of candidates and accommodate families and guests.
The Class of 2017 had 1,272 students receiving 517 associate degrees, 168 diplomas and 587 certificates.
For the second year, in addition to medallions and cords recognizing academic and other accomplishments, eligible graduates wore military honor cords. Those in the reserves, active duty or a veteran received the cord, with their family members presented with red, white and blue ribbons.
Social media was also incorporated into the mix, said Brent Hood, director of communications.
"For the first time, we're doing Instagram pictures," he said before the first ceremony kicked off.
While guests took their seats inside, staff commemorated what was going on outside in the line-up and uploaded them.
"Whatever we shoot out here, families can see the pictures inside on the screen," Hood said. "It gives them something to look at while they're waiting for it (the ceremony) to happen."
For Anastasia Jack, graduating Thursday afternoon from the criminal justice latent evidence program, this was her first graduation ceremony.
The 20-year-old started in the early Jump Start program while a senior in high school. She was homeschooled.
"I am so excited because you see everyday graduations and they have the cap and gown, they get pictures and things like that," she said. "Being homeschooled, my parents handed me my degree."
She described the thrill of getting her first cap and gown, decorating it and participating in the ceremony that commemorated all the students had done to get there.
She plans to continue her education in the criminal justice field, graduating next year with another degree in the criminal justice program before transferring to Fayetteville State University for her bachelor's in crime scene processing. Her interest in the field began with her father, Stephen Jack.
"Me and my dad actually started watching all of the crime scene shows," she said. "It became like a bonding thing. Every night we would sit down and watch our shows.
"I know that's not real life, but it created an interest for me to do something like that."
Miss Jack enthused about the WCC program and instructors, who went beyond textbooks and offered up their real-life experiences.
"They had a lot of things -- like a crime scene, learning how to handle a meth lab," she said. "That was amazing to get that kind of hands on experience."
Adam Williams, SGA president, spoke at both ceremonies. He earned his associate in arts degree and plans to attend UNC-Chapel Hill in the fall.
After thanking his family for their support, he shared a parable of two farmers who desperately needed rain. Both prayed, he said, but only one went out and prepared his fields to receive it.
"Which one do you think got the rain?" he asked. "The one that faithfully prepared for it."
He likened that to his fellow graduates who have spent the past two or more years readying for this day.
"You've been tilling the land, you have planted your seeds," he said, expressing confidence they would be rewarded.
The ceremonies also marked the 32nd year the college has presented the George E. Wilson Excellence in Teaching award to an exemplary faculty member.
It went to Brian Kevin Jordan, automotive instructor and MOPAR Career Automotive Program Local Coordinator.