Wayne County Schools recognizes beginning teacher of the year
By Phyllis Moore
Published in News on May 12, 2017 9:57 AM
Full Size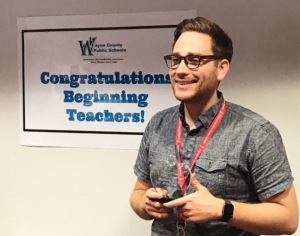 News-Argus/PHYLLIS MOORE
Cody Scrufari, an English as second language teacher at Spring Creek Elementary School, was named Wayne County Public Schools' 2016-2017 Beginning Teacher of the Year Thursday.
Cody Scrufari, an English as a second language teacher at Spring Creek Elementary School, thought he blended in more than standing out.
But Thursday afternoon he found out that was not the case, as he was named Wayne County Public Schools' 2016-2017 Beginning Teacher of the Year.
This is Scrufari's third year in the classroom, his first at Spring Creek. He spent the two previous years in Duplin County, at Rose Hill Magnolia Elementary School.
He lives in Pikeville, he said, and decided he wanted to come home to Wayne County to teach.
A 2011 graduate of Wayne Early/Middle College High School, he attended UNC-Wilmington and is licensed to teach Spanish and ESL. Part of the last class of the state's Teaching Fellows program, he also studied abroad in Chile and just began his graduate studies at Liberty University.
He said he knew early on he wanted to be an educator.
"I remember doing a project in the seventh grade about being a teacher," he said. "Choosing the subject I wanted to teach took awhile. Once I got into UNC-W I realized that Spanish was where I wanted to go."
He is partial to working at the elementary level, he says, and has enjoyed his career thus far.
"It's been a really big learning process, learning about myself, learning about students, how to organize everything with all that goes on," he said.
Fortunately he has had a lot of support, from the central office as well as his school faculty, including his two mentors, Elizabeth Eubanks and Monique Thomas, who surprised him by showing up for the recognition.
He and his wife, Tatum Scrufari, a second-year beginning teacher at Northeast Elementary School, have a 2-month-old daughter, Adelina.
The Beginning Teacher Program Completion Ceremony was a graduation of sorts for 84 teachers in the program, signaling their completing three years in the classroom.
"This is the end of their journey of novice teaching and beginning a new chapter," said Rebecca Bishop, lead beginning teacher coordinator, before addressing the honorees.
"Teachers, as you finish these last few weeks of school, we hope that you will look back on your time as a beginning teacher and remember the many valuable lessons that molded you into the teacher you are today."
Each recipient was presented with a pin.
Twenty-nine were vying for the Beginning Teacher of the Year distinction, an extensive process that included being nominated by mentors and principals, completing a portfolio that consisted of three essay questions and three recommendations. A selection committee reviewed and scored the portfolio.
Beginning Teacher of the Year nominees and the schools they represent include the following:
Brogden Middle School: Marney Dillehay
Brogden Primary: Toni McCance
Carver Elementary: Rachel Bandi
Carver Heights Elementary: Deveda Jones
Charles B. Aycock High: Joseph Otellio and Erin Warren
Dillard Middle: Sandra Johnson
Eastern Wayne Elementary: Holly Egan
Eastern Wayne Middle: Nicolle Robbins and Wendy Williams
Edgewood: Brenda Evans
Goldsboro High: Adam Clark and Jennifer F. Edwards
Grantham Elementary: Tara Hines
Grantham Middle: Connie Henn and Stephanie Washburn
North Drive Elementary: Emily Bolar
Northeast Elementary: Jennifer Edwards
Northwest Elementary: Brittany Murray
Norwayne Middle: Marah Radford
Rosewood Elementary: Denise Tilden
Southern Wayne High: Ashley Cashwell and Cody Rose
Spring Creek Elementary: Cody Scrufari
Spring Creek High: Mary Hare and Troy Smothers
Spring Creek Middle: Karen Peele
Tommy's Road Elementary: Erin Buskey
Wayne School of Engineering: Katherine Hobbs