'Barber On Wheels' delivers fresh cuts
By Phyllis Moore
Published in News on May 9, 2017 9:57 AM
Full Size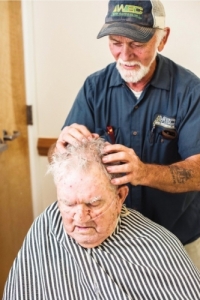 News-Argus/SETH COMBS
Jerry Rose wets the hair of Herbert Evans in preparation for a haircut Friday at the Kitty Askins Hospice center.
Full Size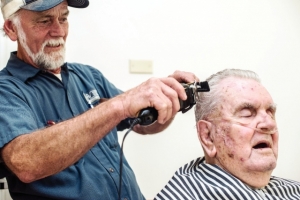 News-Argus/SETH COMBS
Jerry Rose, an electrician with Wayne Electric, used to cut hair for a living in the 1970s. He believes in the importance of a fresh haircut to help a person feel better. In his spare time he visits with and cuts the hair of older people who are living in care facilities.
Jerry Rose can probably remember when a shave and a haircut were, like the song goes, two bits.
The Johnston County native headed off to barber school as a young man, attending Capital City Barber College in Raleigh.
"I just wanted to learn how to cut hair," said the 64-year-old.
He got a job at Esquire Barber Shop near N.C. State University, where he held court for an illustrious lineup sure to impress sports enthusiasts.
"When I was cutting hair at State -- it was 1974, when the Wolfpack won the national championship, people like Monte Towe, David Thompson would come into the shop," he said. "We used to cut Tim Stoddard's hair. He got drafted to the Baltimore Orioles as a relief pitcher."
He laughed at the recollection, remembering all the "war stories" that naturally get shared while sitting in a barber's chair.
From athletes to celebrities in other fields -- like WRAL broadcasters, anchorman Charlie Gaddy and Ray Wilkinson, who did the popular farm report -- it was their heyday, he said. And his.
"I'm the right one for it because I keep them laughing. I know how to joke with them," he said.
More than 20 years ago, he moved to Pikeville. He is now an electrician at Wayne Electric.
But he has not put away his clippers.
He still cuts hair for the guys he works with, he said.
And about five years ago he took his trade on the road, providing the service for shut-ins at places like Willow Creek, Brian Center and Kitty Askins Hospice Center.
Caregivers or family members have sought him out to pamper their loved ones.
"They usually need a haircut and (the caregivers) know that I cut and kind of got me into it," he said. "It's usually about three a week right now that I do."
He's prepared at any time, producing a fluorescent green lunch bag neatly tucked in the back seat of his truck.
But instead of sandwiches and snacks, it contains everything he needs for a haircut or trim.
"I've got shaving (tools) and scissors and brushes, a lot. I've got everything a barber needs, just things I've picked up as I go," he said, opening up the bag to prove his point.
Pulling out a black and white striped drape, he's not one to put makeshift towel around someone's neck, he said.
And yes, the shave can be a critical part of the pampering process, he notes.
"I have a regular razor. We started off with a straight razor. Now I use a regular razor," he explained. "I also put a steam towel on their face. They love it."
The shave, obviously, is for men. But the haircuts are for both men and women, he said.
"I'll cut either. But I don't do no curling," he said with a chuckle.
He has earned a self-appointed nickname in the process.
"I call myself 'Barber on Wheels,'" Rose said. "When I knock on the door, I say, 'Barber on Wheels.' I'm fixing to get some cards made with my picture on it."
He does it for the sense of satisfaction.
For others as well as himself.
It's a service he provides for the ones who can no longer easily make an appointment, get in their car and head to a salon or barber shop.
It is also a help for the caregivers and family members who want to do something special for someone in their charge.
The only thing Rose doesn't provide is a bill.
"They worry about paying, especially if someone else has their money," he says of his clientele. "Sometimes the children want to pay me. I just tell them to pay whatever they want."
There are not a lot of barbers who make house calls, he muses.
So he takes the responsibility seriously and enjoys being able to lift a spirit or two.
"It makes them feel good when you know them by name," he said. "I enjoy talking to them, making them laugh."
His wife, Arlene, is very supportive, he said.
"She likes it. She thinks it's a good thing because she used to watch older people, too," he said.
Rose enjoys the sideline so much, he said he is making plans to expand it in the future.
"I'm going to retire in probably another year and take it more seriously and do more of it," he said. "I could set up two or three days a week. I'm going to do it as long as I can.
"Me and my garden -- tomatoes, squash, cucumbers and taters -- I can do that, watch my garden and cut hair."
Other Local News