Goldsboro earns award from National Main Street Center
By Rochelle Moore
Published in News on May 10, 2017 9:57 AM
Full Size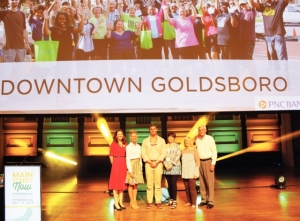 Submitted photo
Patrice Frey, left, president of the National Main Street Center, presents the Downtown Goldsboro Development Corp. with the "One to Watch" award during the May 1 conference. Attending were DGDC members Julie Metz, Andrew Jernigan, Gretchen Reed and Regina Lesnau and Goldsboro Councilman David Ham.
The Downtown Goldsboro Development Corp. received national recognition with a One to Watch Award presented by the National Main Street Center.
Members of the DGDC board received the award during the Main Street conference May 1 in Pittsburgh, Pennsylvania.
The DGDC was originally selected in September as one of 10 communities across the nation as semi-finalists for organization's top award, the Great American Main Street Award.
The three top awards went to Renaissance Covington near Cincinnati, the Oretha Haley Boulevard Merchants and Businesses in New Orleans and the West Chester Business Improvement District, in Pennsylvania.
The national recognition places downtown Goldsboro as the first national finalist and runner-up award winner in North Carolina, said Julie Metz, Goldsboro downtown development director and DGDC executive director.
"It is quite the honor to be acknowledged by your peers, especially at the national level, for the efforts we have made to improve downtown Goldsboro," Metz said. "Our Goldsboro Main Street community consists of many partners led by two organizations, the city of Goldsboro and the Downtown Goldsboro Development Corporation.
"Collectively, we work to create a better Goldsboro through a focused attention to downtown, hoping to make it a source of pride and a valuable asset that will serve our citizens to its fullest capacity.
"We do it for the love of Goldsboro, not for national recognition, however, I think it is safe to say on behalf of all those involved over the many years that have given their service to downtown, that this acknowledgment is rewarding and will strengthen our resolve to continue on."
The award winners are selected based on criteria including the overall strength of a community's main street program and documented success in creating an exciting place to live, work, play and visit.
Also, a commitment to historic preservation, and demonstrated impact, active involvement in the public and private sector and successful partnerships that show community engagement in downtown revitalization.
Increased development efforts as well as a continued uptick in public and private investments, before and since the city's multi-million dollar streetscape project, played a role in the city's national award.
The DGDC, the nonprofit arm of downtown revitalization efforts, works with Goldsboro downtown development staff in improving downtown and continuing the momentum of reviving the center of the city.
The National Main Street Center recognized DGDC for its efforts in "making great strides in using the Main Street approach to revitalize the once neglected and abandoned heart of the city into a thriving destination, beloved by residents and visitors alike."
Goldsboro has also leveraged resources and partnerships leading to almost $13 million in streetscape improvements and cultivated what the Main Street Center considers a dynamic local business environment.
DGDC has also been noted as following Main Street goals that have led to the rehabilitation of 650 buildings and 100 new businesses, since 1984.
The city of Goldsboro was also recently recognized nationwide as one 250 cities as the best to start a small business, by LandEDU, based on a review of thousands of cities across the United States.
Goldsboro ranked at No. 210, outpacing other North Carolina cities that made the list, including Wilmington at No. 211 and Henderson at No. 219.
The downtown streetscape project, boosted by a $10 million federal Transportation Investment Generating Economic Recovery, TIGER, grant, has contributed to the addition of 43 new businesses and more than $7.8 million in private investment, from 2013 to 2016.
The city of Goldsboro has been awarded a second TIGER grant of $5 million, which will be matched with nearly $1.7 million in city funds, and lead to continued development along Center Street.