Firehouse theme more than window dressing
By Rochelle Moore
Published in News on May 10, 2017 9:57 AM
Full Size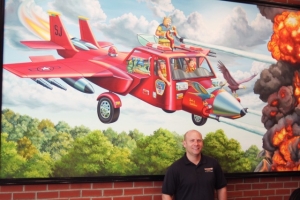 News-Argus/ROCHELLE MOORE
John Best, franchise owner, stands in front of a hand-painted mural in the dining room of Firehouse Subs on Berkeley Boulevard.
The franchise owner of Firehouse Subs in Goldsboro wants the new Berkeley Boulevard restaurant to be known for more than its menu.
The business, which opened in April, is not only owned by a Goldsboro native but also focuses on giving back through its Firehouse Subs Public Safety Foundation.
Money raised in the store, through individual donations, purchases of five-gallon pickle buckets and customers who round up their bill to the nearest dollar, goes to the foundation.
The foundation allows fire departments, law enforcement, the military and emergency medical service organizations the ability to apply for grants that can go toward equipment, training and other needs.
Foundation grants have provided first responder agencies with such items as fire equipment, vehicle extrication equipment, rescue boats, bullet-proof vests and defibrillators.
Even before the local restaurant opened, the Wayne County Sheriff's Office received a grant for the purchase of a defibrillator, said John "J.P." Best, franchise owner. The restaurant's VIP event, prior to opening, also resulted in the largest amount of donations the foundation has received from any of its 1,000 stores to date, Best said.
"We had the largest fundraising night in Firehouse Subs history," Best said. "People gave donations, and it was unbelievably generous in this store,."
Donations go directly to the foundation, which maintains a pool of money collected from stores across the nation. Agencies interested in a grant are able to apply to the foundation through the Firehouse Subs website.
Since its inception in 2005, the foundation has provided $25 million in grants, including $968,100 in North Carolina, to first responder organizations primarily in the United States, Best said.
The Firehouse Subs location in Goldsboro allows customers to donate to the cause, and local agencies have the ability to seek out the grants.
Firehouse Subs, also known for its public safety decor, has retired fire and rescue equipment inside the dining area at its 501 N. Berkeley Blvd. location. Old fire helmets, firefighter jackets, pants and boots and a fire hose line the walls inside the restaurant.
The items were donated by Fremont Emergency Services, the Goldsboro Fire Department and volunteer fire departments from Nahunta, Rosewood, New Hope, Belfast and Little River.
Several locally shot photos of firefighters, including two taken during the Paramount Theatre fire, are also displayed on the walls.
"It's part of our history, and I'm glad to share it with the community," he said.
The dining room wall also has a large hand-painted mural that focuses specifically on elements of the local community. Each Firehouse Subs has a mural that reflects the community where the restaurant is located.
"I'm very impressed with the way it turned out," Best said. "It's an artist representation of Goldsboro. It's trying to incorporate everything that makes Goldsboro Goldsboro."
The mural has an aircraft that resembles a combination of a F-15E Strike Eagle and a Goldsboro fire truck. Included in the painting are several high school mascots, including a Goldsboro High School cougar, Spring Creek High School gator, a Rosewood high eagle and Charles B. Aycock High School falcon.
Sitting in the passenger seat is a Native-American, representing the Eastern Wayne High School warriors and the driver has a saint emblem on his shirt for the Southern Wayne High School saints.
The driver is painted to look like Best's uncle, Jerry Best, a former captain with the Wayne County Sheriff's Office, who was killed in the line of duty in 2002. Best was trying to remove a deer from the roadway, near Cherry Hospital, when he was struck by a vehicle.
"Growing up with an uncle in the police force strengthened my appreciation for what first responders do for our community on a daily basis," Best said. "Being that my uncle was part of emergency services here, I wanted to honor him."
Best, a Goldsboro-area native, is the franchise owner of several Firehouse Subs, including two in Greenville and one in New Bern. He always wanted to open the restaurant in his hometown.
"I'm proud to introduce Goldsboro to a brand that has not only a passion for subs but also public service," he said. "It's a place we want people to come and enjoy. Our goal is to be part of the community. We want to be a place where people come and support the community."