Fremont STARS teachers turn tutors
By Joey Pitchford
Published in News on May 10, 2017 9:57 AM
Full Size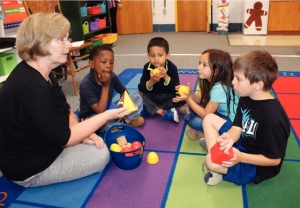 Submitted photo
Teacher Ella Setliff works with her students using blocks at Fremont STARS' after-school tutoring program. The program is open to all Fremont students grade K-5.
Full Size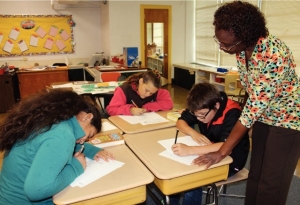 Submitted photo
Fremont STARS teacher Vickie Atkinson works with students during the school's afternoon tutoring program. The new program is designed to give all students a last push before the end of the year.
As the end of the school year draws near, teachers at Fremont STARS elementary are working to help their students grow as much as possible.
Sixteen teachers at Fremont STARS are taking part in a new after-school tutoring program designed to give students in grades K-5 an extra push at the end of the year. The program, for which registration was open to all students, offers individualized tutoring four nights a week.
Fremont STARS principal Sheila Wolfe, said the program is first and foremost designed to promote growth.
"This time of year, everyone is talking about test scores. This is not about test scores, although we hope it will help those," she said. "That's why it is available to students at every grade level, not just the tested levels. It's about building that foundation."
The school has around 70 students in the tutoring program, which means that tutoring sessions typically include one teacher and just a few students.
"That's the glory of us being smaller, we're able to really customize things for the students," she said. "That's part of what's special about Fremont."
This year marks the first time Fremont STARS has offered such a program, which is funded by federal Title I money. Because of the school's relatively small size, that funding had been limited in the past, Ms. Wolfe said. This year, the funding was enough to support the after school program, so the school went ahead with it.
"This is just an additional way to help our students succeed," Ms. Wolfe said. "Lots of other schools have previously done things like this."
The tutoring sessions last around an hour in the afternoon, and run from Monday through Thursday each week.
Instruction is based on where the students are academically when they come into the class, and adapted depending on students' specific needs.
Ms. Wolfe said that students at Fremont STARS have made great progress this year, and hopes that personalized tutoring will help give them the extra edge they may need.
"Our optimal goal is always to bring students forward," she said. "With this, we're hoping to be able to meet students where they are and, by the end of it, have them come out even further ahead."