Mom's train ride derailed
By Ethan Smith
Published in News on May 10, 2017 9:57 AM
Full Size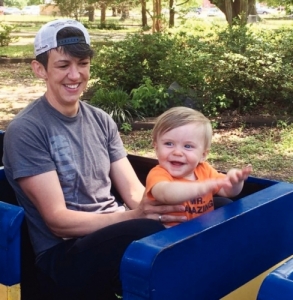 Submitted photo
Kelly Barber rides the Kiwanis Miniature Train at Herman Park Sunday with her son, Jax. Barber said after an incident Sunday, she wants to make sure other mothers do not experience what she did.
When Kelly Barber wanted to take her son on the Kiwanis Miniature Train at Herman Park Sunday, she noticed a sign at the ticket window.
It indicated that mothers could ride the train for free with their child.
So she stepped up to the window and asked the older man behind the counter for a ticket for her son, Jax, who is 9 months old, expecting to only pay for his ride.
Her wife, Tonya, broke away and stood off to the side to wait while Kelly and Jax rode the train.
But things did not go as planned.
Kelly said the man behind the counter asked her if she wanted to ride with Jax, and then said if she did, she would need to pay for a ticket.
When Kelly said she was Jax's mother, she said the man told her she was not.
Kelly repeated to the man that she was, to which she said he told her, "OK, but you didn't give birth to him."
Shocked, she paid for two tickets and walked back to Tonya.
Tonya asked her what happened, after which she went back to the window and told the man Kelly was indeed Jax's mother, and the man refunded the money paid for the extra ticket.
Kelly said the man never gave a reason for why he believed she wasn't Jax's mother.
When reached by phone Monday afternoon, she stressed that she has no ill will toward the organization, and will continue to ride the train -- she simply doesn't want other mothers to be treated the same way she was.
"I will continue to keep supporting them and will continue to ride the train," Kelly said. "I don't want any ill will toward them."
The Kiwanis Club of Goldsboro did not respond to a request for comment about the incident, but Kelly said the club's president, Harlon Neal, reached out to her and apologized for what happened and invited her to a meeting.
She said he also offered her family two passports, which equal 24 free rides on the train.
Though the Kiwanis Club of Goldsboro did not reply to a request for comment, they posted a public apology on the Kiwanis Miniature Train at Herman Park Facebook page Tuesday afternoon.
"We extend our sincere apologies to Kelly and her family for comments that were made to her and her family this past Sunday at the train during some confusion regarding free rides for mothers on Mother's Day," the post said. "We have been in communication with Kelly and look forward to meeting her in person. For 62 years, the Kiwanis Club of Goldsboro has been providing multiple generations of families in our region a fun experience on weekends through the Kiwanis Miniature Train at Herman Park. We obviously failed to do so for Kelly and her family this past Sunday, and are truly sorry."
Kelly said she assumes the man at the ticket window Sunday believed she was a man, and said she understands how that might happen -- she has short hair, shaves it bald once a year for a childhood cancer charity, the St. Baldrick's Foundation, and said she could be mistaken for a man at first glance.
But, she said, just because she does not look like what most people may think a mom should look like, it does not mean she should be told she isn't the mother of her child and didn't give birth to him.
Nor should any other mothers who don't look like the child they have is theirs at first glance, she said.
"My heart really goes out to mothers who have adopted children from different races," Kelly said.
Kelly said she is used to strange looks and sideways glances -- she came out to her parents when she was 17.
Kelly said Tonya has a daughter of her own, and after the couple had been married for awhile, they discussed having children.
"We'd already been married and been together for years, and we wanted to raise a child together," Kelly said. "She's had the experience and gave birth and I hadn't, and I wondered what it would be like to have a little Kelly running around."
Kelly and Tonya went and consulted an obstetrician, who referred them to a doctor who could help them.
"We put it in God's hands and consulted an OB (Obstetrician) and he made a recommendation for the doctor we should use, and we were inseminated and it worked the first time," Kelly said.
During her pregnancy, Kelly continued to work as a paramedic with Wayne County EMS.
She said she experienced normal pregnancy complications, such as anxiety and depression caused by hormones, as well as being tired and sore all the time.
Being a paramedic who responds to calls of labor pains frequently, Kelly said being pregnant herself gave her a new respect for those calls.
During this time, while her and her wife were out in public, she said they were on the receiving end of strange looks at times.
"Every year I participate in St. Baldrick's and I shave my head completely bald," Kelly said. "I still participated when I was pregnant and we would get looks sometimes from people."
But, Kelly said, her and Tonya are very lucky to live in the community they do.
"We are lucky to live somewhere where we know a lot of people and have a lot of support," Kelly said.
Kelly made a Facebook post about the incident after it happened, which garnered upward of 200 shares and 370 likes. Accompanying the text was a photo -- of Kelly standing in an open field, pregnant, cradling her belly.
And come Mother's Day Sunday, she suspects she knows what she'll be up to.
"We live near Herman Park, so if it's a nice day we might just be back on the train," Kelly said.