UPDATE: Man airlifted to Vidant Medical Center after being hit by train
By Brandon Davis
Published in News on May 3, 2017 11:13 AM
Full Size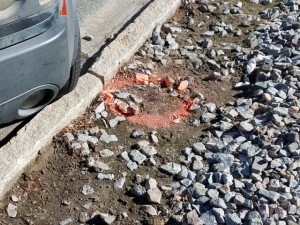 News-Argus/BRANDON DAVIS
Pictured is the spot where Yony Diez-Lopez landed after being hit by a train in Mount Olive Tuesday.
Full Size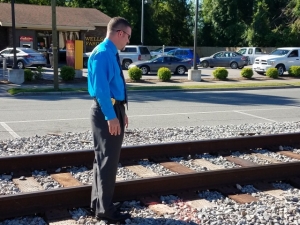 News-Argus/BRANDON DAVIS
Mount Olive Police Chief Tommy Brown looks at the tracks where Yony Diez-Lopez was struck by a train Tuesday afternoon.
MOUNT OLIVE -- The man hit by a train Tuesday afternoon in Mount Olive was airlifted to Vidant Medical Center shortly after the accident.
Yony Diez-Lopez, 29, of 118 Cleveland Drive, crossed the railroad tracks on foot on North Center Street in front of the DMV office at 2:30 p.m. Tuesday.
Mount Olive Police Chief Tommy Brown said Diez-Lopez crossed from the east side of the tracks to the west side and was struck by the train. He said the impact from the train pushed Diez-Lopez 5 feet back to the west side of the tracks.
Brown said Diez-Lopez was conscious and coherent when paramedics arrived, but he said his heart rate dropped soon after he was placed on a stretcher.
Vidant EastCare in Mount Olive airlifted Diez-Lopez to Wayne UNC Health and then to Vidant Medical Center in Greenville.
Brown said he contacted Vidant today, and doctors confirmed Diez-Lopez is in serious but stable condition. Brown said Diez-Lopez is unable to communicate.
"The impact -- when it knocks you out of your shoes -- it's a lick," Brown said.
He said he spoke with a representative from Chessie-Seaboard Merger railroad corporation or CSX, who said the train was traveling 28 mph rather than the normal 40 mph on Center Street.
Brown could not confirm why the train was traveling slower than usual.
He said no charges have been made as of yet on Diez-Lopez from the CSX railroad police.
"There's some follow-up stuff that we will do talking to the railroad," Brown said. "They have their own police, and they actually govern the tracks as well."
Brown said there are rules in place by the railroad corporation to keep people from actually walking on tracks, not just for vehicles crossing the tracks.
"You've got to pay attention to the arms that block the railroad track," he said. "You've got to be attentive anytime."