Recovery group asks for funds
By Steve Herring
Published in News on May 5, 2017 9:57 AM
Full Size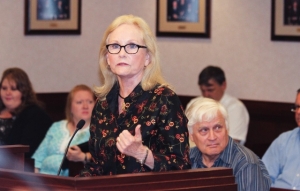 News-Argus/STEVE HERRING
Barbara Stiles, chairman of the Long Term Disaster Recovery Group-Wayne County, explains the group's mission Tuesday to Wayne County commissioners. The board did not act on the group's $15,000 funding request.
Wayne County commissioners Tuesday morning appeared interested in the potential of the Long Term Disaster Recovery Group-Wayne County, but not enough to fund the $15,000 the group asked for.
They did agree to consider the request while work continues on the new budget.
Commissioners worried about duplication of services by the group and whether it was a one-time request that would grow into an annual one.
They were told it would start as a one-time request, but that the group was unsure how the work helping people recover from Hurricane Matthew would last.
Over the past few years, commissioners have cut funding for what they call outside agencies -- mostly nonprofits that they say should not be supported by taxpayers.
Commissioner Wayne Aycock Tuesday said the agencies are worthy and do good work, but that the recovery group's request is still an outside funding request.
"So we have to look at this very closely," he said.
"I would ask this back," said Dustin Bannister, strategic initiatives director for United Way of Wayne County. "How many of those requests do you have that are willing to bring together a dozen, two dozen volunteer organizations that can potentially contribute millions of dollars back into the county?
"I am not saying that they don't. This potential opportunity will bring us the ability to move forward with what we have already got."
Aycock said he had not said no to the funding.
"I just wanted you to know what we are already up against," Aycock said.
Chairman Bill Pate agreed with a suggestion by Commissioner Ray Mayo to look at the request during the ongoing budget preparation.
Formed in November 2016, the group works with the N.C. Voluntary Organizations Active in Disaster to assist those in need who continue to struggle to return their life to normal after Hurricane Matthew, group officials said.
Its members include the American Red Cross; the Salvation Army; United Way; Habitat for Humanity; United Church of Christ; Episcopal churches; Four Day Movement; Literacy Connections; Wayne County Response Team; Federal Emergency Management Agency; Goldsboro Community Development; Wayne Community College; Seymour Johnson Air Force Base; N.C. Emergency Services; N.C. Voluntary Organizations Active in Disaster; Wayne Charitable Partnership; New Hope Presbyterian Church, USA; Catholic Charities; the Society of St. Vincent de Paul; and VFW Post 9959 among others.
The group wants to hire a paid director and assistant director to handle the day-to-day coordinating of case managers who work directly with clients in need, scheduling meetings, planning volunteers work schedules, writing grant applications, working with clients and the general public and other tasks as needed to successfully assist those in need.
The Salvation Army is providing free office space.
The director would be paid $39,000 and the assistant director $18,000. Total salaries with benefits are $72,201.
Long Term Disaster Recovery Group officials spoke to commissioners at their April 18 meeting, but some commissioners asked for more information.
"You had three questions," said Barbara Stiles, volunteer chairman for Long Term Disaster Recovery Group-Wayne County. "One was how will the money be used? We had specifically asked for $15,000. What are our other sources of income, and the third question was could we provide a synopsis of Hurricane Floyd and aftermath of Hurricane Floyd, and what has been accomplished and what had happened in the interim since 2002?"
After Hurricane Floyd the faith-based community responded "beautifully" and started sending money to help with recovery, she said. The group adopted bylaws, formed committees, hired a director almost immediately because of the response of the faith-based community.
"The checks just came in for two years," she said. "We were able to buy resources for the families, pay staff, and meet the needs provided by organization for the two-year period. Once the needs were gone down, the money was gone. It worked out perfectly.
"What is different here in 2017 is the nature of the disasters happening are of epic nature," Ms. Stiles said.
The number and severity of the natural disasters not only overtax state and federal resources, but those of the faith-based community as well, she said.
So the money is just not coming in as it has in the past, Ms. Stiles said.
The group has been able to train case workers who work with those seeking help as well as write some grants, she said.
"We have some money coming in, but we really need $15,000 from the county, and that is what we are asking for from county commissioners in order to get staff there five days a week, full time in the office provided free of charge by the Salvation Army," she said.
The grants being written are asking for a local match, she said.
The group purchases materials for repairs and rebuilding, but also provides lodging for out-of-county groups that come into help rebuild, Ms. Stiles said.
A director and administrative assistant are desperately needed to oversee the day-to-day operations and coordinate the case managers who stay with the person being helped throughout the entire process, she said.
The paid staff also is needed to ensure all of the correct procedures are followed and that resources are used appropriately and to avoid duplication of services, Ms. Stiles said.
But Pate said that based on his years in government there is so much duplication going on and that he hoped the group had safeguards to prevent duplications.
Other Local News