Air Force veteran hired as new manager for city's event center
By Rochelle Moore
Published in News on May 4, 2017 9:57 AM
Full Size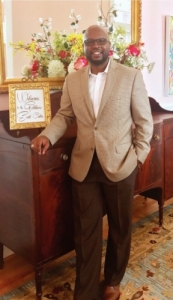 Submitted photo
Anthony "Tony" Smith poses for a photograph in the Goldsboro Event Center. Smith is the center's new manager.
A retired veteran of the Air Force is now managing the Goldsboro Event Center for the city of Goldsboro.
Anthony "Tony" Smith, a native of New Bern, started managing the event center in mid-April, after retiring as the Air Force Personal and Family Readiness Center coordinator at Seymour Johnson Air Force Base.
He brings to the post years of supervisory and management experience.
"I'm very thankful for this opportunity to serve the city of Goldsboro in this capacity," Smith said. "My family and I have loved being a part of this community for the last several years, and it's a pleasure to serve the city and its residents now. The GEC has had a really exciting first year, and I'm looking forward to being a part of its future."
The Goldsboro Event Center, on South Slocumb Street, was previously managed by a part-time employee, Toby Brown, for the past year. Increased bookings and events led to a decision to make the post a full-time job, said Sherry Archibald, director of the Goldsboro Event Center and Paramount Theatre. Smith will earn a salary of $38,000.
"Tony has served the military and their families for decades," Archibald said. "Most recently, he coordinated banquets and events for deployed families. His customer-service experience, hospitable nature and desire to serve made him the perfect candidate."
Smith is responsible for the day-to-day operations of the center, booking events, showing the facility to potential renters and working during events held throughout the day and evening.
Smith received an associate's degree in allied health, in 2006, training as a professional manager, in 2012, and an associate's degree in human services, in 2016, from the Community College of the Air Force. He also holds a bachelor's degree in arts and sciences from the University of the Incarnate Word.
In the Air Force, he has worked as an aircrew member, flight medic, flight instructor and flight examiner. He has also been a training instructor, program manager, family practice office manager, customer relations program manager and patient advocate.
He has been stationed at SJAFB for the past five years, and more recently served 11,000 airmen and their families as the coordinator of the Personal and Family Readiness Center. He retired as a master sergeant.
The Goldsboro Event Center opened in April 2016, after the facility underwent nearly $500,000 in renovations. The city of Goldsboro purchased the building, formerly the Goldsboro Country Club, in 2015.