Emily West named Teacher of the Year
By Phyllis Moore
Published in News on May 5, 2017 9:57 AM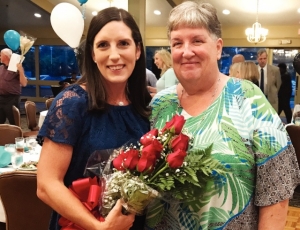 News-Argus/PHYLLIS MOORE
Emily West, left, a fourth-grade teacher at Meadow Lane Elementary School, was named Wayne County Public Schools' Teacher of the Year. During her acceptance speech, she credited her mom, Becky West, right, with being her best teacher and "free assistant" behind the scenes.
Less than two minutes before Schools Superintendent Michael Dunsmore announced this year's Teacher of the Year for Wayne County Public Schools, Emily West realized it was going to be her.
The fourth-grade teacher at Meadow Lane Elementary School was standing on the stage at Walnut Creek Country Club next to the district's other two finalists, Paul Casey from Norwayne Middle and Kirsten Thomas from Charles B. Aycock High School.
Dunsmore praised the "best of best" in the teaching profession, then said he was going to read comments from this year's winner.
Seconds later, recognizing his words as her own, a slight smile broke out across Miss West's face as she shifted on her feet awkwardly, mouthed an apology and glanced down.
She regained her composure, expressing her appreciation as she spoke to the audience.
"Wayne County is my home. I attended Eastern Wayne elementary, middle and high school," she said. "This is an honor to represent Wayne County.
"It started at a very young age for me, when I knew that I wanted to be a teacher. And because of the teachers in Wayne County and those that believed in me and supported me, I'm living my dream every single day in the classroom at Meadow Lane."
She said she was thankful and blessed to be working with the teachers, mentors and administrators at the school and has learned much from them. She told the finalists that the recognition was not hers alone, but represented them all.
Then she paid tribute to her mother, Becky West, who accompanied her Thursday night.
"If it were not for my mom, she's my No. 1 teacher that I strive to be every single day. She's my 'free assistant' at home," she said, drawing laughter from the crowd. "She helps me.
"I just thank you, and I'm very excited and honored to represent Wayne County Public Schools."
Miss West, who has spent all 15 of her years in the profession at Meadow Lane, had likened her teaching style to that of an orchestra conductor. She said she has always aspired to do it with precision, grace and complete control.
The National Board Certified educator has a bachelor's degree in elementary education and is recognized as a "teacher leader" at her school.
Her favorite aspect of teaching, she said, is "just forming that relationship with my students and having a close-knit family, watching them think outside the box and become critical thinkers."
Becky West modestly accepted her daughter's accolades.
"It's been wonderful. I'm 'Grandma' in the classroom," she said with a smile. "I volunteer every year."
Last year's recipient of the distinction, Jennifer Cochran, a math teacher at Rosewood High School, spoke at the annual recognition banquet.
Using a six-letter acronym of the word "bridge," she spelled out the qualities needed to be an effective teacher.
B represents balance and devotion; R is for rest and relaxation; I stands for integrity; D means is for delegate; G is grounded; and E is for evolved, she said.
"The legacy we're building will be remembered for a lifetime," she said. "Be that bridge students, parents and community members are looking for to help them on that journey to success.
"Don't forget to share that B-R-I-D-G-E with someone else."
Each nominee received a glass apple paperweight engraved with the recipient's name. The finalists also received a crystal award.
Every year, all 33 schools in the county select an individual Teacher of the Year to represent their school.
After a lengthy process of completing a portfolio and being interviewed by a selection committee, the field is narrowed down to three, representing the elementary, middle and high school levels. Miss West will now advance to the regional Teacher of the Year program.
Other Local News