Two former Goldsboro High School classmates share rare pulmonary condition
By Phyllis Moore
Published in News on October 9, 2017 5:50 AM
Full Size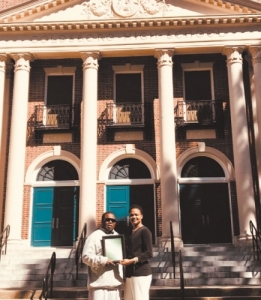 News-Argus/PHYLLIS MOORE
Pamela Young, right, diagnosed with sarcoidosis in 2004, recently recognized Renandous Holloway with an award after learning that the fellow Goldsboro High School class of 1990 graduate suffered from the same rare pulmonary disease. She said his courage and perseverance were inspiring.
Pamela Young decided early on to use her diagnosis with sarcoidosis to raise awareness and encourage others.
She had no idea one of the benefactors would be a former classmate.
She was diagnosed with the rare pulmonary disease in 2004.
"It can affect any organ in your body, but mainly breathing and lungs," she explained. "I have been fortunate it hasn't hit me as hard as other people."
In 2010, she decided to start a foundation -- generating fundraisers and peer-to-peer counseling while educating others about the disease.
"My primary thing, I don't focus on the disease," she said. "I focus on disengaging the spirit of fear and inadequacy.
"I'm a pro-life engager and motivator."
She has done much research on the disease and has a heart for those who may be struggling with it.
"When God blesses you to come from a place and He ministers to you, at that point when it resonates in your heart, then it becomes a new responsibility and purpose in life," she said. "We are to minister it to someone else at that point."
As if on cue, she ran into a former classmate at the YMCA one day and caught up on each other's lives.
She and Renandous Holloway quickly discovered they had more in common than being 1990 graduates of Goldsboro High School.
"He began to share with me all the things that he's been through," Young said. "He was diagnosed with sarcoidosis and began to tell me about what it had done -- part of his spleen removed and one of his eyes removed and he had a bout with rashes.
"But boy, his spirit is like high. He's an encouragement to me."
Holloway, now 46, was diagnosed at age 22, he said.
It started with vision problems, he said, crediting a visit to a local ophthalmologist with being advantageous.
"Dr. Barry Teasley practically saved my life," he said. "All in the same day, I went from there to an X-ray at Wayne Radiologists."
That led to the diagnosis of sarcoidosis and other health issues.
Discovering the shared health issues, although symptomatically Young and Holloway's situations were different, gave her a great deal of humility, she says now.
Many people are perhaps unfamiliar with the rare disease, which claimed the life of popular comedian Bernie Mac in 2008.
"A lot of people need to be aware of this because this is a serious disease," Holloway said. "I didn't really know it was serious."
His situation is currently manageable, and he said he considers himself in remission. But he has other health issues, including receiving dialysis three times a week and being on a transplant list.
Young, a poet who is working on her third book, created the Sarcoidosis Awareness Creed, which says in part, "We stay the course regardless of the trials, heartaches or pain. We do not allow the spirit of fear and defeat to enter our atmosphere. We choose to find solace in the quietness of the Keeper of our souls. Our trust is in the Lord who is the Giver of Life."
She was so touched by her classmate's perseverance and courage in the midst of his health issues, she said that she decided to recognize him with an award.
"I have been thinking of him ever since we spoke, that's been years ago," she said. "I also had been thinking of my foundation and what avenue I want to go with it.
"I thought, he personifies the creed that I wrote. He's a person that has the same attributes as the creed."
Young and Holloway met recently for her to present him with the award at a familiar place, in front of their alma mater.
Looking at the plaque containing his friend's poetic words, Holloway expressed his gratitude.
"I never received nothing like this. I mean, who would know somebody would award you for your illness?" he said. "She's a kind person. She's always been a kind person.
"I've been knowing her since school. For her to bless me like this, I mean, who would know that all this could come out a rainbow from the storm? I appreciate that."
For more information on the Sarcoidosis R.A. Foundation, email breathofapoet@yahoo.com or call 919-396-3688.