Hurricane Matthew: One year later ---- The will to overcome
By Phyllis Moore
Published in News on October 10, 2017 5:50 AM
Full Size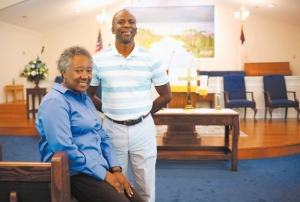 News-Argus/CASEY MOZINGO
Trustee Gloria Crowder and Pastor Len Caper stand in the newly remodeled sanctuary of St. Joseph Free Will Baptist Church.
Full Size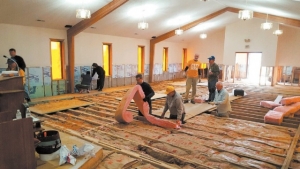 Submitted photo
Representatives from the N.C. Baptist Men stepped in to help reconstruct the interior of St. Joseph Free Will Baptist Church on Claridge Nursery Road, a victim of Hurricane Matthew one year ago. The church recently resumed services in the sanctuary.
Full Size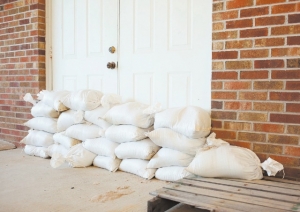 News-Argus/CASEY MOZINGO
At St. Joseph Free Will Baptist Church, in another remnant of Hurricane Matthew, which poured in nearly 5 feet of water and displaced congregants for the bulk of the past year before services resumed, members still take no chances when there is a threat of a repeat. Sandbags were again piled up by the doors to the fellowship hall when Hurricane Maria was thought to be a potential threat. Trustee Gloria Crowder says they will stay there for the remainder of hurricane season.
St. Joseph Free Will Baptist Church, made uninhabitable one year ago when the floodwaters of Hurricane Matthew swept through, has resumed services in the now-reconstructed sanctuary.
The memories of the October 2016 storm are still fresh -- the nearly 5 feet of water that filled the church and destroyed carpeting, pews and other furnishings.
Efforts, including putting down sandbags at each door, proved futile. The Claridge Nursery Road church, located near the Little River, was no match for the wrath of the storm.
Floodwaters kept the congregation at bay for about a week before they were able to get inside to assess the damage, said Pastor Len Caper, who celebrates his 11th anniversary in the role next month.
"We could get to the McDonald's and just look at it, wondering what's going to become of our church?" he said.
When they were able to return, they were greeted by mold and mildew and a smell that was "almost unbearable," he said.
"Anything that was on the floor level was gone," he said. "There was discoloration of the pews, all the tables from 4 feet up were affected.
"We just pretty much knew we had lost everything in the church."
Trustee Gloria Crowder grew up in that church. She left in 1996 when she went to college and had moved back in 2008.
The devastation was beyond her comprehension, she said.
"It was emotional -- disbelief," she said. "How do you get back from this? How did this happen? Never in my life have I seen anything like that."
It would prove to be a test of faith for the small church with about 80 members.
Crowder had a lot of time alone at the church, reflecting on the situation.
Fortunately, answers to prayer began to show themselves.
"I think the biggest thing was just where do I turn and how do I turn," she said. "God doesn't put us in places that He can't help us."
One of the members provided her with a phone number of some possible relief. The man she called agreed to meet her the next day, which she did, but she admittedly had a little trepidation.
"Do I trust this man?" she asked. "Because God could have sent him to me. Is this God sending this angel here right now?"
Her trust proved to be well-placed, she says now.
He was from the N.C. Baptist Men out of Raleigh, and ultimately provided some good news -- the organization was going to help.
"What they did, from top to bottom, they began to rip out floor boards, they replaced base boards, dry wall, they literally rebuilt our church," Caper said. "They came down, volunteers, some of their wives would come and just rip out old dry wall and paneling because they just wanted to meet our need. And that's what they did.
"You talk about a God-send."
Crowder echoed, very clearly, that their help came from the Lord.
"God sent somebody -- who else would it have been?" she said.
At the outset, the pastor sought ways to tend his flock.
"We knew we were not going to be in the church for a while, so my gears starting thinking of, who could I call? Where could I call to at least keep the membership having services because I knew that would be important to us from a spiritual aspect of what we were going through together," he said.
He reached out to pastor Ken Jefferson of The Lord's Table Church. For the next seven and a half months, St. Joseph held services there every Sunday afternoon, as well as meetings and Bible studies.
He and several congregants showed up at a recent Sunday morning service at The Lord's Table to express their appreciation. Crowder also gave testimony of how the effort had blessed her.
"You guys made me a better Christian, because I saw what Christians really can do and will do," she said. "I have changed my whole life as a result of all of this, I really have.
"Sometimes, we don't know why we get put in the positions that we get put into, but when you can come out and give God the glory, it was the right thing to do and I thank you."
The floodwaters have been replaced by emotions that rise, ebb and flow, she said. The aftermath of the storm was definitely fraught with hard times, but they have served to bring the congregation closer, her pastor said.
They relied on each other as much as they relied on God, he said -- checking on one another, coming together and weathering the situation.
"In all those months, we were not disenfranchised," Caper said. "We were not displaced but we were where God would have us to be, to stay together as a church family, to worship in the midst of everything we were going through.
"God gave us greater than we had. He gave us better than we had. How many know that we serve that kind of God, that can give you triumph out of tragedy."
There had actually been some things the church had hoped to do, in the way of enhancements and expansion, but were simply not able to afford, Caper said. In an ironic twist of fate, the flood became a baptism of sorts, as some things were washed away and provided a new birth within the walls.
"We basically have a brand new church on the inside -- new pews, new carpet, new furniture," he said. "We were able to expand our fellowship hall, which is something we wanted to do. We wanted to do some enhancements to the sanctuary. That's done now."
The fellowship hall was completed first, allowing them to return and hold services on Mother's Day. That day was a "packed house," Caper said, with lots of rejoicing people at what God had done.
The first service back in the sanctuary was Aug. 19.
The past year has changed not only the interior of the building, but the interior of their hearts, the pastor said. The membership has increased, and the donations and blessings along with it.
It has also given him and his parishioners a new mission.
"The church is not a building. The church is a body of believers, so God is simply transitioning us for a great change and that transformation part, that's what He's done," he said. "It's not just a new church but a new 'us.'"