Hurricane Matthew: One year later ---- Business owners rebuild, start anew
By Joey Pitchford
Published in News on October 10, 2017 5:50 AM
Full Size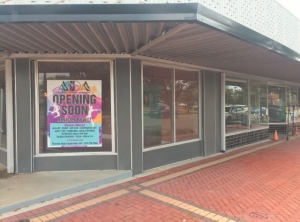 News-Argus/JOEY PITCHFORD
An opening soon sign is posted on the front door of the Artistic Dance Academy studio on the corner of Ash and Center streets.
When Hurricane Matthew hit Goldsboro in October 2016, Patricia Warren, owner of Artistic Dance Academy, lost almost everything she had built.
The dance studio, which has been in Goldsboro for over 50 years, operated out of the Cloth Barn on Ash Street at the time of the storm. The location was hit hard, and when Warren arrived at the studio following the storm, she found most of her investments destroyed.
"We had flood insurance, but even then my dance floors were not covered, and that's where most of our money was," she said. "We lost most of what we had."
For a while, the future of the dance academy was unsure. However, Warren said, placing her trust in God helped her through.
"You just have to remember that God is in control, and rely on Him," she said. "We did that, and here we are."
Now a year later, "here" is a new location on the corner of Ash Street and Center Street, in a 100-year-old building which captured Warren's attention with its sense of history.
"I love old historical buildings, and I'm so excited about this," she said, gesturing to the building's original tin ceilings. "This place was built in 1917, it is just incredible."
Beyond just being an old building, the new location is also twice the size of the academy's previous location at around 12,000 square feet. It has room for three studios, along with multiple lobbies and an area for students who are coming from school to do homework and relax before class.
The new location has played host to businesses like bakeries and pet shops before, and Warren said the property owner, Jeff Fordham, has taken it upon himself to renovate it.
"Jeff Fordam did probably 90 percent of the renovations to this place," she said. "I'm paying for my dance floors and a few other things, but he's paying to have all new electricity, plumbing, air conditioning, everything put in."
Warren said she is particularly excited to continue the Dance for Christ program, a dance ministry she created herself.
"Dance for Christ is kind of my baby," she said with a smile. "We do a series of pieces which tell the story of the gospel through dance, and anyone is welcome to join. You don't have to be a dancer here."
Now in a much less flood-susceptible area, Artistic Dance Academy will continue to offer the classes it is known for. Jazz, Hip-Hop, Ballet and more are all slated to start up once the studio opens in October, although the exact opening date is uncertain. She again credited God for helping her keep her passion alive.
"I truly believe that, when you pray to God, sometimes he just decides to show off a little bit," she said with a laugh. "He says 'oh, you lost a 6,000 square-foot building? Well here's a 12,000 square foot building."
*
Unlike Artistic Dance Academy, Big Jim's Pizza had been open less than half a year before Hurricane Matthew tore it apart.
The family pizza restaurant and arcade, at 1750 US 117 S., opened in June of 2016. Owner Amanda Kear said the business had just started to find its footing when the storm slammed into Wayne County.
"I had friends in the Mar-Mac fire department, and they told me it was going to be worse than Floyd," she said. "We had 20 pieces of arcade equipment, several booths, tables and chairs, and we didn't have anywhere to store it."
The building did not have flood insurance, and when the water rose, it took almost everything. Big Jim's is positioned next to the Neuse river at the bottom of a hill, and despite the building being raised several feet off the ground, water still filled the entire restaurant more than halfway to the ceiling.
Even before the water entered the building, the staff was scrambling to save what they could. That was impeded by, of all things, stubborn customers, said general manager Michael Beckman.
"There was a children's birthday party here during the storm, and they just wouldn't leave," he said with a laugh. "So once we got that finished up, we got out."
Kear could not stay away long. On the Tuesday following the storm, she returned to Big Jim's -- by canoeing across her parking lot. What she found inside has stuck with her since then.
"All of our furniture had floated and turned over, our ice machine had floated and snapped in half, there was a layer of mud over the entire floor," she said. "We had to go in and completely strip the building all the way to the metal walls on the outside."
That work kicked off a nearly year-long recovery process for Big Jim's. It wasn't until August of 2017 that the restaurant finally reopened -- with a completely new paint job, arcade machines and furniture pieced together from various used goods retailers.
Kear said she was lucky to find so much used furniture to fill the building with.
"Just to replace our tables and chairs, the estimate we got was $45,000," she said. "Overall, it was $410,000 in damage."
With help from several local groups including the entire Southern Wayne High School football team, the staff at Big Jim's eventually got the place back on its feet. Kear said she feels like the restaurant is close to where it was before the flood, and is excited to move things forward. Big Jim's will take part in the Taste of Wayne on Saturday, and Kear teased some new attractions for the restaurant "the likes of which don't exist in Wayne County."
Mostly, though, the biggest relief has been seeing the restaurant operate again. For Kear, the community reaction has meant the world.
"It is really nice to come in here and have people say 'we missed you guys,'" she said.