An achievement to be especially proud of
By Phyllis Moore
Published in News on June 7, 2017 6:56 AM
Full Size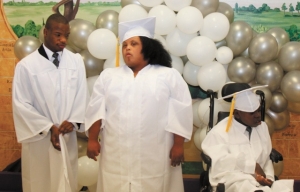 News-Argus/PHYLLIS MOORE
Graduates, from left, James Thomas III, Eneida Vazquez and Moleke Tann, at Tuesday night's graduation ceremony and promotion program
James C. Thomas III, all decked out in a dark gray suit and tie, was bucking to run ahead of his parents down the hallway of Edgewood Community Developmental School on Tuesday night.
It was, after all, his graduation day.
"James has been going to school here since he was in preschool, 3 years old," said his mother, Arndrea.
She and her husband, James Thomas II, have lived in Goldsboro since their son was about 2.
The couple moved here with the military but also for the medical facilities -- James had been born a preemie, weighing only 1 pound, 15 ounces.
The prognosis for the little boy had been staggering. Edgewood, a specialized public school catering to children with developmental issues, provided hope.
"When he came here he couldn't walk, he couldn't eat and you saw him, running down the hall," his mother said. "So he's made a lot of milestones, a lot of progress."
Edgewood held its graduation ceremony for students who have reached the graduation requirement or aged out of the program. The maximum age requirement is 22, said principal Tasha Adams.
Three students graduated this year and received a certificate of completion. They also got to wear the traditional cap and gown.
James is now 21. He will be attending a day program with Skills Creations, Mrs. Thomas said.
Moleke Tann has been at the school since kindergarten, said his mother, Wanda Tann, joined by a contingent of relatives there to cheer on their graduate.
What the school has meant to this family could be summed up in one word, Wanda said -- "Everything."
"The doctors said he wouldn't live past one," chimed in Vanessa Tann, of Faison, Wanda's sister and Moleke's aunt.
The proud family circled around the 19-year-old, who navigates with the help of a wheelchair.
His mother said the initial plan this summer is to give Moleke some down time, with a break from school.
Eneida Vazquez led the Pledge of Allegiance during the ceremony.
The 19-year-old started at the school in 2009, said her father, Joseph E. Matthews Jr.
"I was gonna let her get out last year," he said. "I decided to let her go another year."
The father of five has been through graduation before, this being his youngest child.
But that did not diminish the significance of the occasion.
"Today is the proudest moment of my life, other than the other children's graduations," he said.
Other Local News