PNC Jazz Showcase, Arts Council part ways
By Rochelle Moore
Published in News on June 7, 2017 6:56 AM
Full Size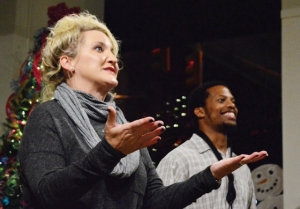 News-Argus file photo
In this file photo, former Arts Council director Sarah Merritt and Wayne County PNC Jazz Showcase founder/promoter Eric Dawson thank the audience at a showcase performance.
The popular Wayne County Jazz Showcase that drew people from all walks of life and attracted well-known musicians to Goldsboro is changing.
The showcase, held once a month at the Arts Council of Wayne County, held its final concert in May. According to the Arts Council board, the series will change its focus to become multicultural music nights, with the June 16 event planned to include a performance by the Eastern Wayne Bluenotes, a jazz ensemble from Eastern Wayne High School.
"We have a jazz series that we'll continue to have," said Wendy Walker, Arts Council of Wayne County executive director. "The only thing that has changed is we're not using (the same) booking agent."
The jazz series, which started in February 2014, has continued every third Friday of the month during the past three years, with Eric Dawson, a Kinston jazz musician as the booking agent.
"The main goal of me starting something of this magnitude was to highlight North Carolina musicians and give them a place for them to get paid fairly and to build a community around their music and to help small towns see live jazz as its is in bigger cities, like New York," Dawson said.
Dawson and previous Arts Council director Sarah Merritt launched the series that originally included a $10 admission price.
What started as a small event, drawing about 40 people, increased in attendance as PNC Bank provided a $10,000 grant during the first year. PNC Bank doubled its contribution to $20,000 during the second and third years. The funding supports the program and the cost of musicians through June.
Dawson announced during the May concert that the series would have a reunion jazz event on June 16. He also said that due to uncertainty with continued PNC Bank funding, the series would take a break for a while, he said.
Walker said she has not received confirmation that PNC will provide a grant for the series in the coming year. Several days after the May concert, Dawson received a letter from Walker stating that his services as booking agent are "complete."
Dawson said he still plans to have the reunion jazz showcase at another location and will announce the event soon.
"I'm definitely going to do that reunion show, and I'm checking out other venues," he said. "The primary focus now is to save the jazz series and put it in another venue."
He is also developing the Live Music Initiative, a nonprofit he formed in an effort to diversify the type of music being offered in the Wayne County area. In addition to jazz, other genres of music would be included such as rhythm and blues, smooth jazz, blues and old-school country music. There would also be a greater focus on having performers from eastern North Carolina.
Dawson has been interested in diversifying the music for nearly two years and has wanted to have a larger location for the concerts, which have drawn 100 people or more to the Arts Council building downtown on John Street, he said.
Dawson is also seeking funding sources to support the series.
"They decided to go in a different direction," Dawson said of the Arts Council change. "It may be a blessing because it was very packed in there. It's a very good problem to have as a promoter. I'm really looking for something that's a bit bigger or outside."
Anyone interested in keeping up with the series can sign up for email notifications through the website, at www.wilsoncountyjazzshowcase.com, or by going to the Wayne County Jazz Showcase Facebook page.
The Arts Council will have multicultural music nights on the third Friday of the month, from 7 to 9:30 p.m. Future plans include reducing the number of events from 12 to six to nine during the year. The events will incorporate cultural music, dancing, food tastings and educational workshops from a variety of countries and cultures, according to the Arts Council board.
Attendance at the Wayne County Jazz Showcase has declined and production costs continue to rise, according to the board.
"As a non-profit organization, the ACWC always has to be true to our mission," Walker said. "Ensuring the arts are thriving in our community means that we must produce work that is engaging and accessible for everyone in our diverse community.
"Allowing the jazz series to evolve into a multicultural series opens up many more avenues for our studio artists, studio musicians, and artisans throughout the region to participate and share their skills and talents."
Other Local News