Citywide prayer vigil is slated for tonight
By Rochelle Moore
Published in News on June 7, 2017 6:56 AM
Full Size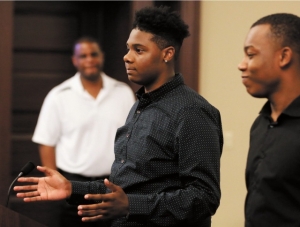 News-Argus/CASEY MOZINGO
Kyree Williams, 17, addresses the Goldsboro City Council Monday night and invites them and anyone wishing to attend to a prayer organized by Impact Teens Goldsboro at Cornerstone Commons today at 6:45 p.m.
A youth-driven group is hosting a citywide prayer event tonight in response to the recent rash of killings in the Goldsboro area.
The Impact City-Wide Prayer Night will take place at 6:45 p.m. in downtown Goldsboro at the Cornerstone Commons, located in the corner of Center and Chestnut streets.
Impact Teens Goldsboro, a youth-led nonprofit, is organizing the event in an effort to bring change in the city, said Khalil Cobb, co-founder. The effort is also taking place in collaboration with Operation Unite Goldsboro, a grassroots group working to improve the community through various programs and initiatives.
"We have decided to hold a citywide prayer in response to the senseless rash of murders that have happened on our streets," Cobb said. "We had have had five deaths of which three were teenagers. This is our first step in helping to stop these senseless gun violence deaths."
The event is taking place to show that teens are taking a stand and have an interest in doing whatever it takes to end gun violence, Cobb said.
"The second reason this event will take place is because we want to take the time to honor the victims who have lost their lives to gun violence," Cobb said. "So in honor of them, we will be releasing flying lanterns."
Teens will also light candles during the event, which is taking place at the downtown fountain due to its symbolism.
"We chose to pray around the water fountain mainly because water is known for life," Cobb said.
At least 40 teens are expected to attend, and efforts are underway to coordinate traffic around the fountain, Cobb said.
The event is open to the general public, Colebrook said. Several public officials are expected to attend, including Mayor Chuck Allen.
"Join us Wednesday evening at 6:45 p.m. for the Impact citywide prayer," said Mark Colebrook of Operation Unite Goldsboro. "It's time for us to come together as a city to bring unity into our community. Candles will be lit, and lanterns will be released in honor of those who lost their lives to gun violence."
Impact Teens, co-founded by Cobb and Ja'Shawn O. Faire, was started for teenagers to help address the needs of the community and to focus on creating successful teen leaders through service and innovation.